Description
Daniel Smith 15 ml Watercolour Cerulean Blue
Daniel Smith Cerulean Blue watercolour is a superb mixing color. Think of this color as a cleaner, brighter and slightly warmer alternative to Daniel Smith Cerulean Blue Chromium. A bit less green, it's a truer blue that will be a versatile component of any palette.
Details:
Size: 15 ml tube
Pigment: PB 35 | Series: 3
Lightfastness: I – Excellent
Transparency: Semi-Transparent
Staining: 1 – Non-Staining
Granulation: Granulating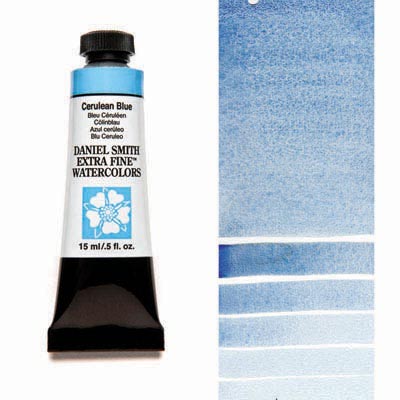 These vibrant watercolors span the color spectrum from the historical pigments originally used by Renaissance masters to natural earth tones and vibrant quinacridones. This color has excellent brushing properties, making these paints desirable for any watercolor artist.
Outstanding color strength, Pigments procured from all over the world, Manufactured in Seattle, Washington.
SKU: 284600206