Description
485 Indigo  was originally made from a  traditional plant dyestuff from India. For lightfastness reasons, it has been replaced by synthetic, organic pigments. It is a perfect for shading and deepening of coloured tones.
Pigment Identification – PB 15:1 PB 66 Phthalocyanine blue Indigo synthetic
Opaque
Staining –  difficult to lift and remove  from the page.
** Limited Lightfastness
Schmincke Horadam Watercolours are available in 5 ml or 15 ml tubes as well half pan or full pan.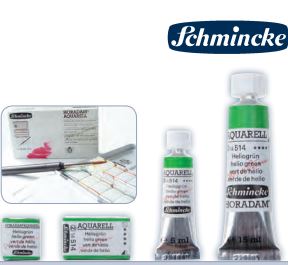 About Schmincke Horadam Watercolours
110 colours comprise the HORADAM®AQUARELL range. 69 colours are formulated with one pigment only, an ideal quality for professional painting and for colour mixing. The newer artists' pigments have been researched and tested to comply with the highest quality standard regarding stability, fineness, resolubility and lightfastness. To achieve these outstanding characteristics, like reusable paint when dried on a palette and high control of paint flow even on soft watercolour papers, only the best raw materials are used. The entire colour line is harmonious, balanced and complete.
Each colour has its own individually optimized formula.
Highest lightfastness due to an extra-strict validation process
Fully reusable paint when dried on a palette means less waste and ease of use
Pan formula is the  same as tube formula for greater compatibility and ease of use
Perfect balance of gum arabic and ox gall make colours highly controllable even on soft watercolour paper
German-made quality
No compromise in quality –
Highest standards of artists' pigments allow highest light fastness The lightfastness rating notes whether a colour is fugitive (fading) or lightfast (non-fading). It is an objective characteristic, which depends not only on the pigment itself, but also on the complete formula. Therefore Schmincke does not only report the lightfastness of the pigment itself but tests the complete formula of each colour in the Xenontest and/or on the roof of the Schmincke factory for a prolonged period. Colours are rated strictly according to a 5-star-system, such intensive testing is vital. It is understood that no watercolour painting should be exposed to direct sunlight for a long time due to the usually fine and thin and thereby light-sensitive colour application.*****Extremely,Lightfast, ****Good Lightfastness, *** Lightfast, ** Limited Lightfastness, and * Less Lightfast.
Especially selected Gum Arabic The main ingredient of the watercolour binding medium is Kordofan Gum Arabic from the southern Sahara region. Like most natural products this traditional watercolour binding medium differs from year to year. Therefore Schmincke tests the Gum Arabic every time and selects only the best crop each year. This adds significant quality advantages. Other formula ingredients are selected equally carefully and of course are integrated in each formula to obtain a harmonious assortment, that can be easily picked up by the brush.
Ox gall – more than a wetting agent An important criterion for the highest quality is the control of a watercolour application without undissolved pigment and undesired cloud formations. The perfect flow of the HORADAM® AQUARELL watercolour is guaranteed by the optimal amount of ox gall. It is the decision of the artist – not of the colour – where the application should flow moist in moist or if the colour should stay dry on the paper.
Pouring watercolours in liquid state is how the real quality of a pan colour is born Another traditional criteria for quality is the ease of re-solubility of dry colour. For this reason HORADAM®AQUARELL watercolours use the same formula for tube and pan paints. Both properties, the reusability and the control of the paint flow can only be achieved by pouring watercolours into pans in a liquid state.  This production process is unique and labour intensive. Each pan must be filled 4 times, allowing the colour to dry and settle between each filling. The first step is to fill the pan with the colour and let it dry for some weeks in a drying chamber to a certain degree of residual moisture. The second, third and forth steps follow the same procedure. It means each single pan is ready for sale only after 3 – 5 months.