Description
Nerpa Polymers Casting Resin
Nerpa Casting Resin is a crystal-clear, low viscosity, UV-protected system formulated specifically for woodworking and crafting projects requiring prolonged curing time. This formulation is best for applications requiring a 1″-2″ thick epoxy pour, such as river tables, encapsulations and dioramas. Nerpa Casting Epoxy Resin is made responsibly with bio-based content from recycled glycerol. This system has three key differences from other similar products on the market:
Key features:
Very low mixed viscosity for best-in-class air release in deep pours
Colourimetry certification passed raw materials to ensure consistent optical clarity. We never use technical-grade raw materials with a yellow hue
Two-stage complimentary UV protection protects your project from immediate yellowing under the sunlight
Made in Canada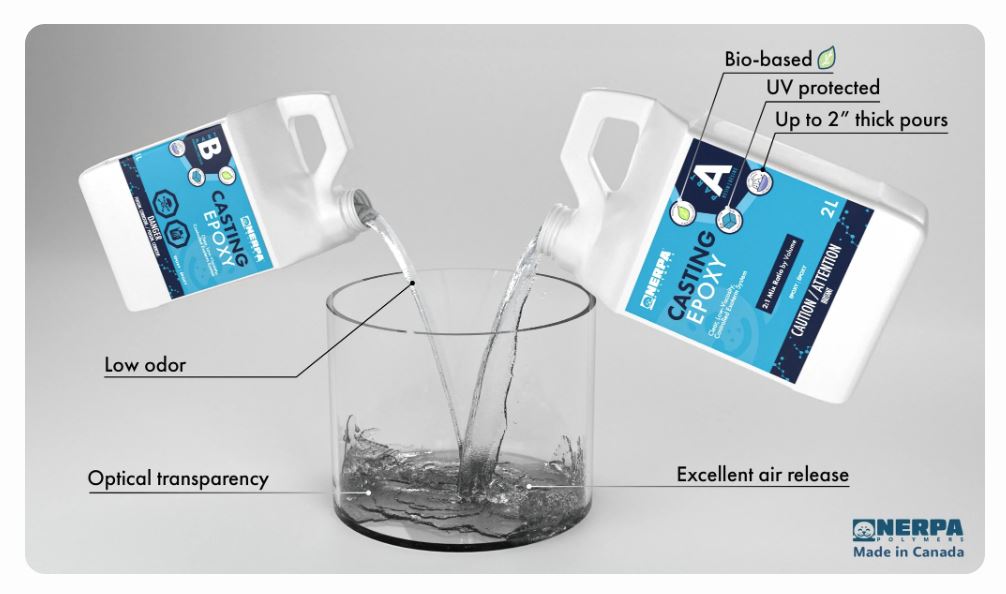 Casting Resin Sizes:
0.75L Kit (500ml Resin + 250ml Hardener)
1.5L Kit (1L Resin + 500ml Hardener)
3.0L Kit (2.0L Resin + 1.0L Hardener)
6.0L Kit (4.0L Resin + 2.0L Hardener)
12.0L Kit (8.0L Resin + 4.0L Hardener)
30.0L Kit (20.0L Resin + 10.0L Hardener)
60.0L Kit (40.0L Resin + 20.0L Hardener) *Special Order Only
Nerpa Epoxy Resin is made responsibly
Nerpa Polymers uses a complex approach to manufacturing our resins. Their company employs sustainable methods for producing their resins, such as a zero chemical waste policy with no solvent-free resin manufacturing and equipment maintenance. Nerpa Polymers Casting Epoxy is made responsibly using a by-product of bio-diesel production – plant-based glycerol. Casting Resin contains 28% of annually renewable carbon. Learn more.
Extremely low viscosity
The result of Nerpa's R&D work is one of the best flowing epoxies on the market. The low viscosity of only 215-250cP is achieved without using solvents and additives compromising the cured properties of the material. Worry less about bubbles in your project!
UV protection
Nerpa stabilizes their epoxy resin with a two-step complimentary UV protection sequence. This concept is based on preventing initial damage to cured resin by the absorbance of the UV light with UV absorbing molecules that trap the light of 360-400nm, followed by the second step of neutralization of unwanted radicals capable of damaging the molecular network. Read more about their approach to UV protection in Nerpa's blog.
Details:
Mixing Ratio: 2:1 by volume, 2.33:1 by weight
Appearance: (mixed)clear, low viscosity liquid
Intended application: castings 1″-2″ thick
Working temperature: 20-25°C
Mixed Viscosity: 215-250 cP.
Working Time: (1.5″ thick 10L pour)60 min.
Pot Life: (1.5″ thick 10L pour)5 h.
Set To Touch: (1.5″ thick 10L pour)20 h.
Ready For Sanding: 24-72 h. (depending on the ambient conditions and thickness of the epoxy layer)Hardness 80+ Shore D
Bio-Content: (resin)≥30%