Description
Chibitronics Chibi Lights LED Circuit Stickers STEM Starter Kit
Learn to build circuits while make interactive artworks with the Chibitronics STEM Starter Kit. It's easy, fun, safe and creative. Chibitronics Chibi Lights Circuit Stickers are a creative and fun way to learn electronics. Circuit stickers are LED circuits on peel-and-stick stickers. Build circuits without soldering, plugging wires, or clips. Instead, use the stickers with conductive tapes to draw circuits on paper and other crafts.
LED Circuit Stickers are LED lights on peel-and-stick stickers. You can use them to add electronics to any sticker-friendly surface. Circuit Stickers are an approachable way to learn and create electronics through craft, whether you're just starting out with circuits, lighting up your favorite art, craft or science project.
This kit includes:
1 Circuit Sticker Sketchbook
12 circuit stickers (6 white, 2 yellow, 2 red and 2 blue)
2 binder clips
2 coin cell batteries
1 roll of fabric circuit tape (16 feet/5M) with tape tag
1 strip of pressure sensitive conductive plastic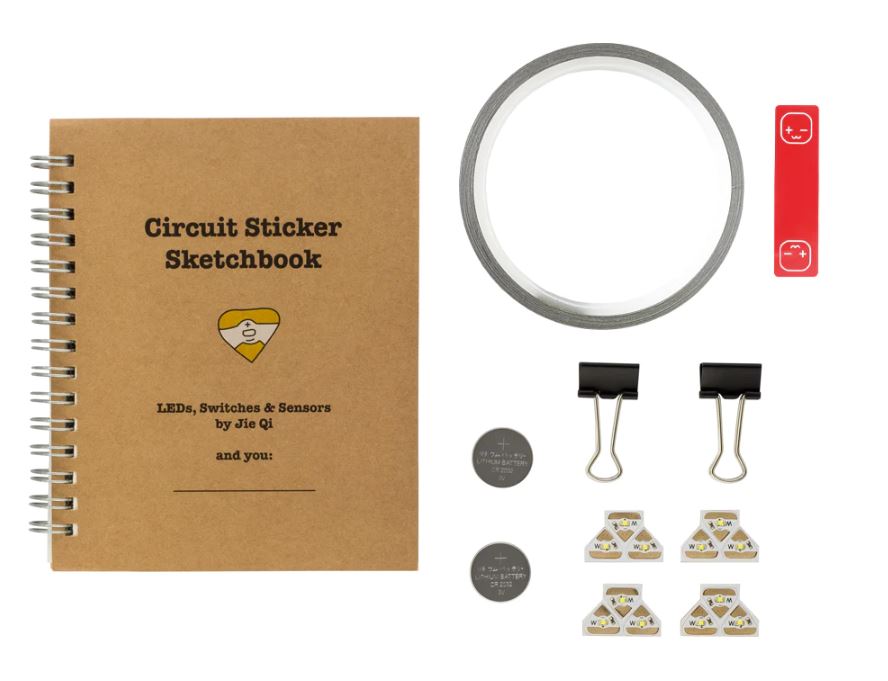 The Sketchbook walks you through five circuit concepts including parallel circuits, switches and resistance-based sensors. Every activity comes with a circuit theory lesson, a template with drawing activity and then an open-ended activity for you to design and create your own circuits.
Since the circuits are completed right on the pages of the book, you will have an interactive sketchbook of working circuits to refer to as you design your own projects. Best of all, you'll be able to learn new electronics concepts while also expressing yourself in whole new ways!
Find more Chibitronics products here.
Find more craft project inspiration over on their Blog, Instagram or Youtube channel.