Description
Saunders Waterford Rough Watercolour Blocks
Saunders Waterford is an exquisite watercolour paper, traditionally made on a cylinder mould machine. These Waterford Rough Watercolour Blocks feature 20 sheets of white, 140lb paper, taped on 4 sides to prevent warping. Made using 100% cotton, the highest quality papermaking material, to high archival standards. Each sheet is buffered with calcium carbonate to help defend finished pieces of work from discoloration caused by acids present in atmospheric pollution.
Each block is glued on all 4 edges, keeping the paper tight when you apply a wash. When using a block you do not need to go through the process of soaking and stretching the sheet as the block does this for you, and the paper dries flat. Blocks are excellent for painting on location.
This archival watercolor paper will last for hundreds of years (in good storage conditions) and won't discolor or fall apart. This is the superior quality watercolour paper made by St Cuthbert's Mill and comes with the Royal Watercolour Society's endorsement. Its attractive surface is made using natural woolen felts that give it a distinctive random texture. The surface features gelatin sizing, making it strong and resilient to scrubbing, and other rough treatments.
The beautiful rough surface texture enhances the finished painting, and makes the paper very strong and assists with flow of wash from brush to paper. It is resistant to scrubbing and other extreme treatments like masking fluid removal.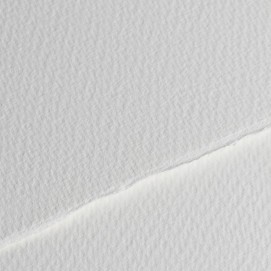 Details:
Rough surface
20 sheets
Glued on 4 edges
Cylinder mould made
Natural woolen felt textured
Grain Direction: Long Grain
Gelatin Surface Sized
Color: White
100% Cotton
Acid Free
Archival
Highly lightfast
Also available in a Cold Press or Hot Press surface.
Suitable for Multimedia
In addition to watercolour, this paper is suitable for pastel, gouache, acrylic, pencil, charcoal, pen and ink, as well as printmaking.
Find more Saunders Waterford paper here.
Learn more about St Cutherberts Mill watercolour papers here.