Description
The new Bullet Journal – Edition 2 from Leuchtturm1917
In cooperation with the international Bullet Journaling community and designer Ryder Carroll, Leuchtturm1917 is writing the next successful chapter of the original Bullet Journal.
The intensive exchange with the BuJo community has generated ideas for new features and details, with which Ryder Carroll's ground-breaking method for self-organization can be integrated into your own life even more intuitively. Enjoy more individual structure and creativity – with the new Bullet Journal®  – Edition 2.
New features:
New 120 g/m² paper only lets your thoughts and ideas shine through
Journaling fans will now also find the Pocket Guide in Bullet Journal® – Edition 2. This compact extra booklet with quick instructions is always at hand in the practical folding pocket of the back cover. For all those who want to discover Bullet Journaling for the first time, and an additional inspiration for advanced journal-keepers.
More creative freedom for appointments and plans: The Grid Guide
New features in the Bullet Journal®  – Edition 2 create even more opportunities to customize and personalize self-organization according to your own ideas. For example, with the Grid Guide: these instructions in the front of the book make it easier to create calendar overviews, diagrams or trackers.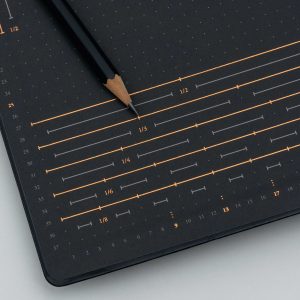 Additional structure on every page: Page Dividers 
The new Page Dividers put smart markings on each page, which enable fast and precise division in fields or sections – both vertically and horizontally.
Iconic creativity for all of the year's events: the new Sticker Set
A set of stickers included in the Bullet Journal®  – Edition 2 provides even more design flexibility. The Sticker Set offers overviews of months and weekdays along with icons that can be used for labelling.
Of course, the new Bullet Journal® – Edition 2 from LEUCHTTURM1917 still features all the trusted tools and extras from the previous version, such as Future Log, three bookmarks, an index and numbered pages.
Find the rest of our Leuchtturm1917 selection here.
About Leuchtturm1917
Characterized by a love of the product, LEUCHTTURM1917 has developed a brand philosophy which is that everyone discovers and develops their character and their own ideas through writing by hand. The result of this conviction is the guiding principle of LEUCHTTURM 1917: Denken mit der Hand*.
A LEUCHTTURM 1917 notebook gives you the freedom to discover yourself and your life.
Leuchtturm1917 notebooks feature slightly chamois coloured paper to improve readability as well as 2 bookmark ribbons and elastic closures. These books also feature gusseted pockets on back covers and lay flat bindings. These books are available in soft cover and hardcover as well as a variety of sizes and rulings, including grids, dots and ruled notebooks.