Description
Sekishu Banshi Tsuru
Sekishu Banshi Tsuru is an unsized, Handmade washi paper with 3 deckled edges, 25 g, 21″ x 29.25″. This washi is cooked in soda ash, unbleached, machine beaten, and board dried. One of the oldest continuously made papers in Japan, made in Sekishu, now called Shimane. Don't confuse this paper with others called Sekishu that aren't 100% kozo technique for making Sekishu.
Designated by UNESCO as an Intangible Cultural Heritage of Humanity and by Japan as an Intangible Cultural Property. Strong & absorbent, excellent for conservation and printmaking, as well as dyeing. This washi is traditionally used for brush writing.
Details:
Weight: 25 g
Size Imperial: 21″ x 29.25″
Fiber Content: 100% Japanese kozo (contains some cleaned green bark)
Usage: Brush Painting, Chine Colle, Conservation, Printmaking, Repair, Marbling
*Will be rolled for shipping. For shipping, please order a minimum of 5 sheets. It is easier to package to prevent damage. May not qualify for free shipping. See our shipping policy here.
Single sheets may be purchased in store.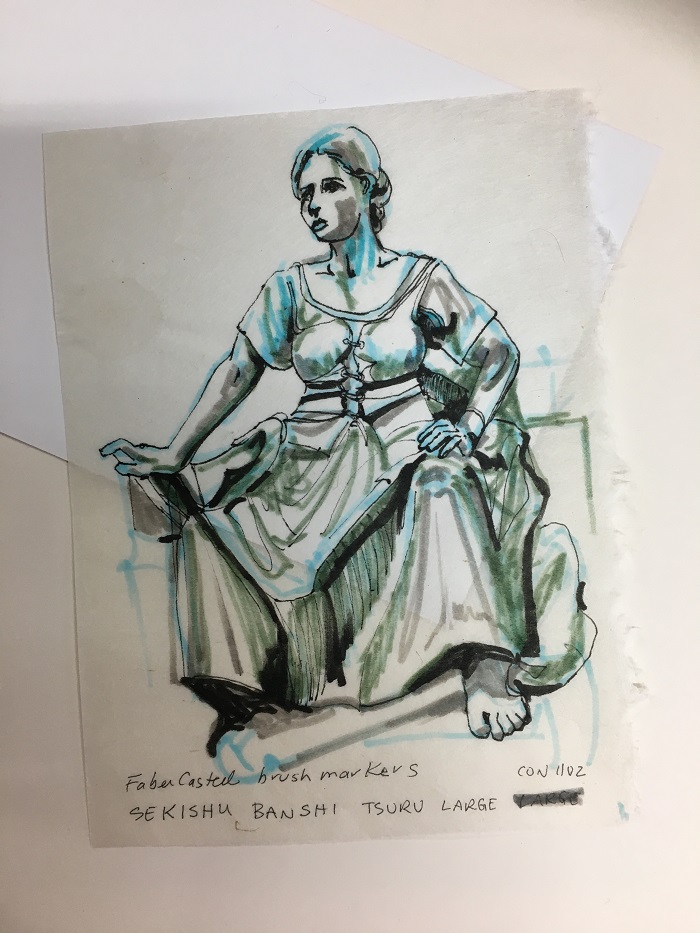 Not what you're looking for? Find the rest of our Washi papers here. You can also find a full selection of available Japanese Papers on the Japanese Paper Place website. We are able to special order any of their papers for you. Contact us for more information.