Description
Tomoe River Paper Cream
Often requested by calligraphers, Tomoe River Paper is a smooth machine made paper that is well suited to drawing with pen and ink. Tomoe River is a favorite of fountain pen users. This delicately supple paper has a deliciously smooth, polished surface perfect for hand writing.
Tomoe River Paper is a washi paper from Japan, known for its unique characteristics and versatility. This light paper is made from long fibers that are interwoven. As a result, this paper has great strength and durability, yet remains smooth to the touch. This washi has become increasingly popular among calligraphers due to its ability to hold ink well and produce crisp lines when drawing with pen and ink. It also works great for bookbinding projects, because it can take heavy use without tearing or becoming damaged over time.
Tomoe River Paper's thinness makes it ideal for journaling, sketching or writing letters. To add even more personality to your work, many people prefer using washi tape which adds color accents without taking away from the original look of the paper. Its versatility further allows you to print on both sides of the sheet if needed – perfect for creating invitations or personal stationery!
Details:
Weight: 52 g
Size Imperial: 

8.5″ x 11″

Colour: Cream
Fiber Content: 100% Sulphite
Available in packs of 25 or 100 sheets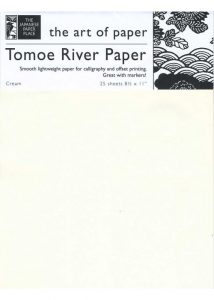 *Color may vary from screen to screen*
Not what you're looking for? Find the rest of our Washi papers here. You can also find a full selection of available Japanese Papers on the Japanese Paper Place website. We are able to special order any of their papers for you. Contact us for more information.