Description
Compact, configurable, cute.
*NEW*
Art Toolkit Folio Palette
is Art Toolkit's largest pocket-sized watercolor palette. At over twice the size of the
Pocket Palette
, the Folio Palette holds up to 30 Standard Pans, 60 Mini Pans, or countless other arrangements to suit your creative needs.
Measures 5-5/16″ x 3-3/8″ x 1/4″ (~135mm x 86mm x 7mm) when closed.
Weighs ~3.5 oz (~92.2g) without paint.
Rust-proof hinged aluminum case.
Features the Mixing Pan, XL Mixing Pan, 3 Double Pans, 6 Standard Pans, and 12 Mini Pans.
Magnetic tray, fully compatible with all sizes of our stainless watercolor pans.
Includes a reusable cloth drawstring logo pouch.
Available in Silver or Black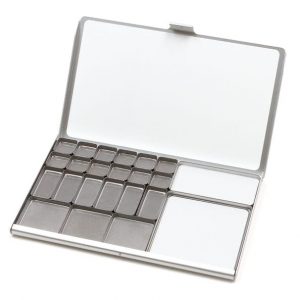 At Art Toolkit, we believe that art can be not only a tool for self-expression, but for communication, exploration, and scientific inquiry. Our purpose is to empower and inspire our customers to create art every day by providing well-designed tools and materials.
In 2004, artist Maria Coryell-Martin embarked on a year-long Watson Fellowship to explore remote landscapes through art. This experience inspired a resolve to continue working as an expeditionary artist with a focus on polar and glacier science, as well as to inspire environmental awareness in audiences of all ages.
Maria's travels have brought her face-to-face with polar bears, leopard seals, emperor penguins, and narwhals. She was inspired to create a more compact sketching and painting kit after a memorable experience juggling clumsy sketching tools while crawling in the sand for hours to monitor walruses on a small island in eastern Greenland.
Many prototypes, field-tests, and customer reviews later, Art Toolkit and Pocket Palette have evolved into a versatile sketching and painting system for artists.
In 2019, Maria's sweetheart and collaborator Darin joined the business full-time. We moved Art Toolkit out of a back room of our house and into a beautiful studio space in Port Townsend, a seaside arts and boat-building community in Washington State.
Looking ahead, we are excited to continue to innovate as well as refine our stable of field painting and sketching supplies.
You can read more about Maria's adventures on the Expeditionary Art blog.
Did you know? In cold climates, you can substitute vodka for water to keep water brushes from freezing.