Description
Gamblin PVA Size
Gamblin PVA Size is a poly vinyl acetate (PVA) sizing. Diluted with distilled water, PVA sizing is used as a contemporary priming coat for fabric painting supports such as canvas or linen. Conservation scientists recommend that painters use neutral pH PVA size on linen and canvas instead of rabbit skin glue, as a base coat prior to gesso. PVA provides a good barrier layer that seals the fabric, but does not re-absorb atmospheric moisture, swell or shrink like rabbit skin glue does. There are hundreds of different formulae of poly vinyl acetate glues and sizes, but not all are equal.
We acknowledge and appreciate the research of the Canadian Conservation Institute that helps painters and conservators identify the best P.V.A. to use. Gamblin PVA Size is made from poly vinyl acetate that has a neutral pH and does not yellow. It also retains its flexibility and does not emit harmful volatiles.
Gamblin PVA is available in the following sizes: 8.5 fl oz and 33.8 fl oz.
This product cannot ship in freezing weather.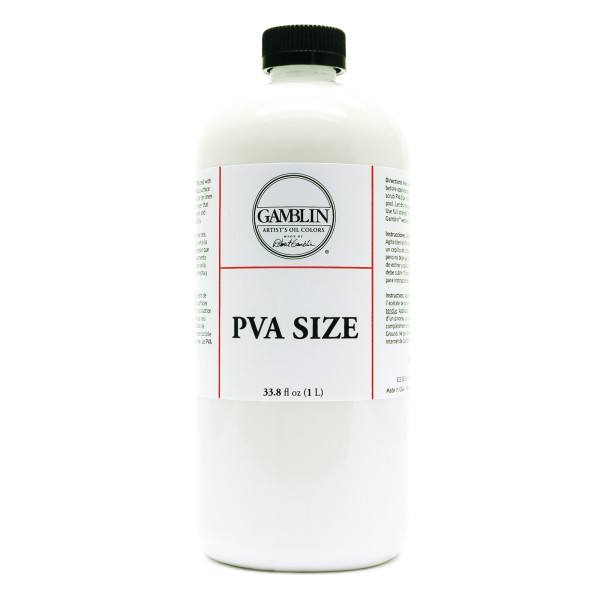 Maintain the integrity of your work from start to finish with this contemporary sizing for fabric support. It is highly flexible, when applied to linen or canvas. Poly Vinyl Acetate will not re-absorb atmospheric moisture that eventually causes swelling and shrinking and ultimately, paint cracking.
Neutral pH, Non-yellowing, Designed especially for fabric supports, Made in the USA
For a PVA glue for bookbinding, check out Lineco pH Neutral Adhesive here.