Description
Unique Color: A Limited Edition R&F Pigment Stick Set
For 2022, R&F has curated a unique set of six oil Pigment Stick colors featuring three limited edition colors. The Pigment Stick Unique Color set includes R&F's best selling Prussian Blue, Green Gold Pale, and Olive Yellow oil sticks. Additionally, this palette is extended with three limited edition 38 ml Pigment Sticks: Verdigris, Quinacridone Magenta Light, and Cadmium Coral.
Limited Edition Color Information:
Verdigris: A deep, emerald green, reminiscent of Viridian's top tone, yet significantly more opaque. Contains Titanium-Zinc White (PW6 + PW4), Phthalo Green (PG7) and Mars Yellow Light (PY42).
Quinacridone Magenta Light: A Quinacridone Magenta tint. Cool, bluish, and edgy. Contains Titanium-Zinc White (PW6 + PW4) and Quinacridone Magenta (PV19).
Cadmium Coral: A clean and warm Cadmium Red Light tint. Contains Titanium Zinc White (PW6 + PW4) and Cadmium Red Light (PR108).
R&F Pigment Sticks are a unique version of an oil stick that will transform the way you paint. They have rich pigmentation and a lipstick soft consistency. This gives them the same fluidity, subtlety and durability of traditional oil colours. They have just enough natural wax added to maintain a solid stick form. Pigment Sticks let you get rid of the brush, thus allowing you to work more directly on your surface. Their immediacy and mark making ability afford an endless range of options.
Whether you call them oil sticks or pigment sticks, it means the same. It is like a tube of oil paint but in a stiffer stick form. R&F Pigment Sticks® are comprised of pure alkali refined linseed oil and purified natural plant wax and beeswax. They contain no driers, no fillers or adulterants and no expedients of any kind. Because R&F does not use short cuts, the wonderful workability of R&F Pigment Sticks® depends upon a very careful balance of oil, waxes and pigment. This results in an intensively pigmented, handmade, traditional yet versatile artist quality oil paint.
Use these paints with R&F Blending Medium for glazing.
Choose a larger set here or buy individual colours of R&F Pigment Sticks here.
Find more information about R&F Pigment Sticks here.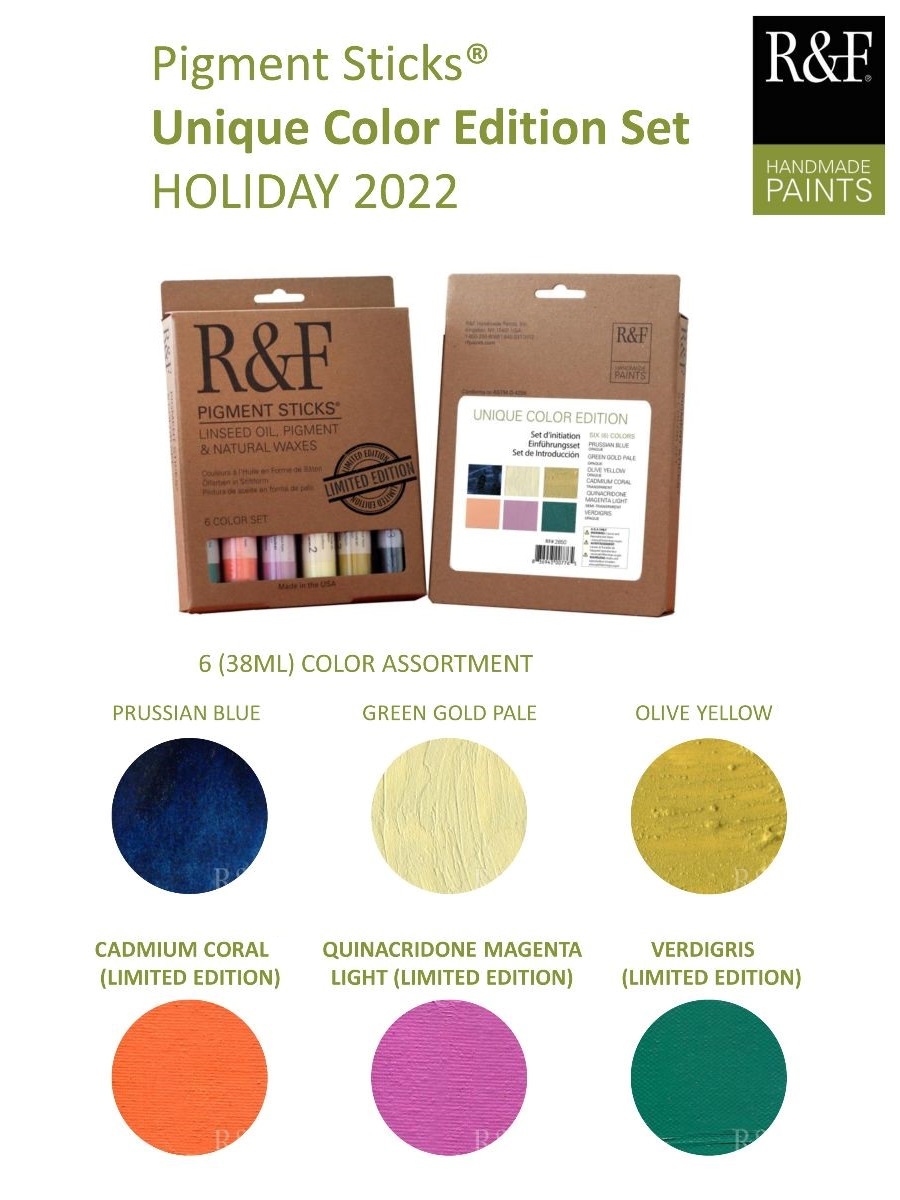 R&F Pigment Stick Unique Color Set – Limited Edition