Description
Amsterdam Standard Acrylic 72 Set
This Amsterdam Standard Acrylic 72 Set provides a balanced color palette and multiple opacities. The 72 x 20 ml tubes of Amsterdam Standard Series Acrylics are made with high quality pigments and 100% acrylic emulsion. This medium viscosity paint provides nice brush strokes and texture, but can also cover large areas with a smooth color.
Your choice for acrylic color in affordable starter sets. The Amsterdam Standard Series gives you the broadest range of brilliant, pure colors, all skillfully made based on a 100% acrylic emulsion and high grade pigments. Enjoy great lightfastness, and excellent adhesion on canvas and walls, or use it on almost any other surface that you like.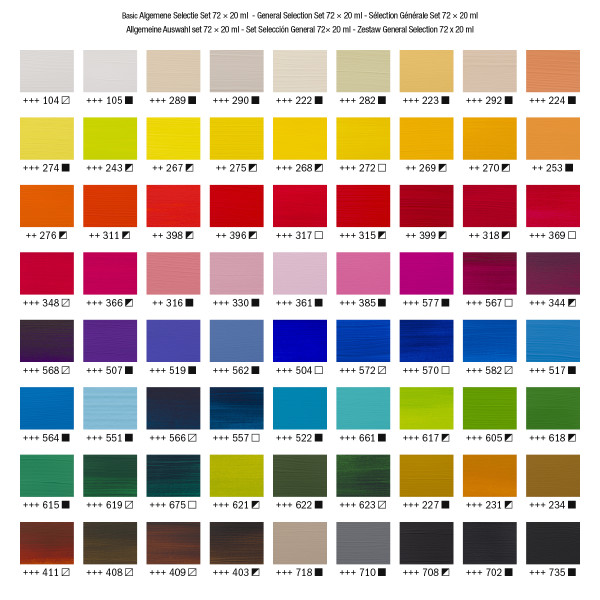 Set Contents 20ml tubes:
Colors include Titanium White, Zinc White, Titanium Buff Light, Titanium Buff Deep, Naples Yellow Light, Naples Yellow Green, Naples Yellow Deep, Naples Yellow Red Light, Naples Yellow Red, Nickel Titanium Yellow, Greenish Yellow, Azo Yellow Lemon, Primary Yellow, Transparent Yellow Medium, Azo Yellow Medium, Azo Yellow Deep, Gold Yellow, Azo Orange, Vermilion, Naphthol Red Light, Naphthol Red Medium, Transparent Red Medium, Pyrrole Red, Naphthol Red Deep, Carmine, Primary Magenta, Permanent Red Purple, Quinacridone Rose, Venetian Rose, Persian Rose, Light Rose, Quinacridone Rose Light, Permanent Red Violet Light, Permanent Red Violet, Caput Mortuum Violet, Permanent Blue Violet, Ultramarine Violet, Ultramarine Violet Light, Grey Blue, Ultramarine, Cobalt Blue (Ultramarine), Primary Cyan, Phthalo Blue, Manganese Blue, Phthalo, King's Blue, Brilliant Blue, Sky Blue Light, Prussian Blue (Phthalo), Green Blue, Turquoise Blue, Turquoise Green, Yellow Green, Permanent Green Light, Emerald Green, Permanent Green Deep, Olive Green Light, Olive Green Deep, Sap Green, Yellow Ochre, Gold Ochre, Raw Sienna, Burnt Sienna, Burnt Umber, Vandyke Brown, Warm Grey, Neutral Grey, Lamp Black, and Oxide Black.
Features:
Value priced and easy to use, making them an excellent choice for the beginning or intermediate artist
They can be mixed with water or mediums, and clean up requires only soap and water
Their thick consistency is perfect for textured effects
They are quick drying and non-toxic, so they are perfect for use in the classroom
May be thinned easily with water
Made from pure, non-fading pigments
Original color can last for decades
Keep our planet clean!
The trays in all Amsterdam sets are made of 100% recycled plastic and are produced locally. Also, the cardboard packaging is partially made of recycled cardboard. The packaging is 100% recyclable. Help us keep our planet clean and be sure to dispose of  packaging in the correct recycling bins. By doing so, you ensure that they will be completely recycled.