Description
Guerrilla Universal Palette Extension Kit
Add more work space to the Guerrilla Pocket Box, ThumBox, Cigar Box, or LapTop Box with this hinged universal palette extension. This handy accessory folds into your Guerrilla box when not in use. The standoff screw keep it elevated above your palette. This small 6.5″ x 5″ palette extension fits the 5″ x 7″ Pocket Box perfectly, so it will fit in all the larger sizes of Guerrilla boxes as well.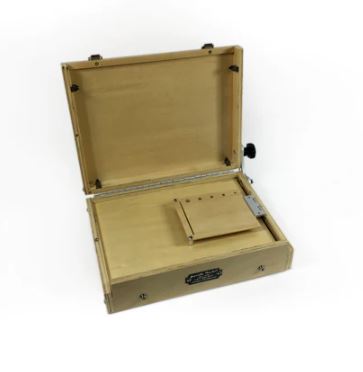 Details:
Adds palette space
5 holes to hold paint brushes
Parking slot for the Hang-Up Brush Caddy
Simple installation
Birch plywood surface
Aluminum hardware
Dimensions: 6.5″ x 5″ x 0.2″
Weight: 2 oz
Note: With the Palette Extension Kit installed, there will be room for only one wet panel in the pochade box lid. If you use a Panel Size Adapter, you'll have to remove it to close your Guerrilla box.
Find more Guerrilla Painter pochade boxes and supplies here.
Guerrilla Painter Universal Palette Extension Kit (for Pocket Box, ThumBox, Cigar Box, LapTop Box and 9×12 Guerrilla Box V2.0)
SKU: 132.0712