Description
ArtGraf Viarco Watercolour Disc Sets
ArtGraf Watercolour Discs come in the handy shape of an old-fashioned tailor's chalk. These Watercolour Disc Sets are a great way to try out these unique drawing tools. The tapered edges and rounded corners can be used for line work and details. The broad side can be use to create large bold strokes. The intense black is water soluble, too. Try the carbon stick on wet paper for a delicious drawing stroke. Figure drawers will love the ease and versatility of this uniquely shaped drawing tool.
Ideal for travel or studio use, ArtGraf Pigmented Tailor Shapes comes in a variety of colors and sets. Each tailor's chalk measures 1 3/4" x 2".
Purchase individual colours here.
Watercolour Disc Sets:
Monochrome 3 Set: (includes Carbon, Graphite & White)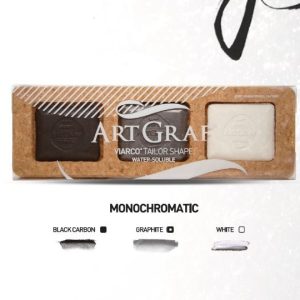 Primary 3 Set: (includes Red, Yellow & Blue)
Earth Tone 6 Set: (includes Sanguine, Ochre, Sepia, Brown, Dark Brown & Black Carbon)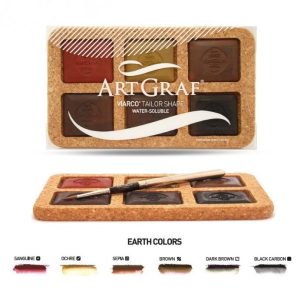 Find more ArtGraf products here.
Viarco is a family-owned business located near Porto in northern Portugal. They have developed unique and proprietary blends of graphite, carbon and binders to produce some of the highest quality sketching materials available to artists today. Find out more about ArtGraf by Viarco here.