Description
Nitram Extra Soft Charcoal Sticks – Round 5 Packs
Each package contains five (5) Extra Soft Charcoal round batons.
Extra Soft Round (Petits 6 mm) – Designed for use in figure drawing at the studio.
The advantage of Nitram is its ability to not crumble or skip when used expressively.
Studio time is precious – you shouldn't have to worry about your charcoal.
Extra Soft Round (Moyens 8 mm) – Ideal for the visual artist.
Nitram Charcoal has the advantage of rich blacks and a wider range of shades.
This helps the artist to refine the values that will later define the finished piece.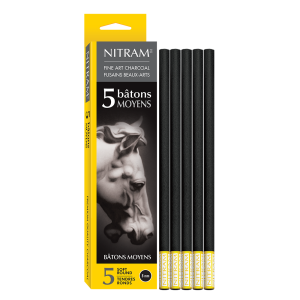 Extra Soft Round (Epais 12mm) – For the artist who works large.
Nitram's superb quality ensures that it does not crumble under pressure so you can express yourself with confidence.
Behind every great painting is an exceptional drawing – Nitram helps.