Description
Are you working large? Nitram offers a large format charcoal for working big. Nitram offers three selections of charcoal that won't create the mess that a charcoal chunk makes. Along with clean, crisp drawing, Nitram charcoals are wrapped with paper so the artist doesn't need to worry about accidentally touching paper or canvas with a soiled finger. In 25 mm, 50 mm and 15 mm x 46 mm.
Nitram soft charcoal is easy to erase and doesn't leave behind a lot of dust as some charcoal's do. With versatility and ease of use, Nitram Charcoal is the perfect choice for adding dark accents and tonal value to a drawing.
Nitram Charcoal is neither a willow nor a vine charcoal. It is produced using a unique process that maintains the wood's cell structure to increase durability and prevent breakage while providing rich blacks and superior tonal values.
Despite its softness, Nitram batons can be sharpened. They will not crumble and resistant to breakage, unlike willow or vine charcoal that can easily break.
Nitram Charcoal produce less dust when used or sharpened. Due to its unique manufacturing process, it creates less dust when used or sharpened – making it a better choice for those sensitive to the dust of willow and vine charcoal.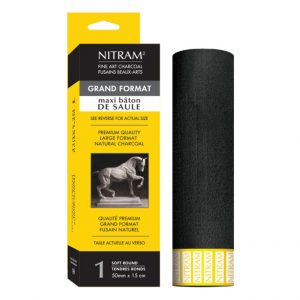 Demi Bâton de Saule
Each package contains two (2) batons
Diameter: 25 mm (0.98″)
Height: 152 mm (6″)
Bloc de Saule
Each Package contains (1) baton
Length: 15 mm (0.59″)
Width: 46 mm (1.8″)
Height: 152 mm (6″)
Maxi Baton de Saule
Each Package contains (1) baton
Diameter: 50 mm (1.9685″)
Height: 152 mm (6″)