Description
GOLDEN Acrylic Fluid Intro Set
This New Golden Fluid Intro Set includes 6 fluid acrylic colors in 1 oz (30 ml) bottles. These highly intense, permanent colors from Golden have a consistency similar to heavy cream. They are produced from lightfast pigments, rather than dyes, and no fillers or extenders are added. Fluid Acrylics contain high pigment levels suspended in an acrylic polymer vehicle.
Fluids are the most versatile paint formula produced by GOLDEN, and are easily adaptable to a wide range of applications. They are ideal for spraying, brushing, or mixing with all GOLDEN Colors including Heavy Body Acrylics and High Flow Acrylic Colors. When mixed with water, or GOLDEN Acrylic Wetting Agent, these Fluid acrylics are very useful for staining or watercolor techniques.
Includes Six Colors – 1 oz. bottles:
Colors: Benzimidazolone Yellow Medium, Naphthol Red Light, Ultramarine Blue, Permanent Green Light, Carbon Black and Titanium White.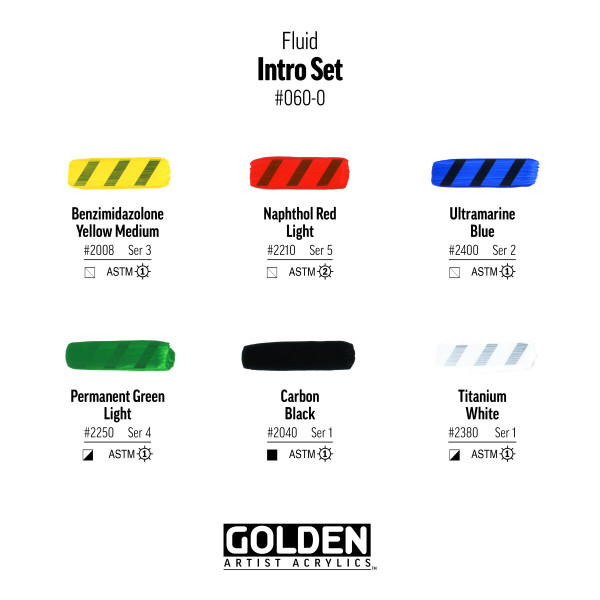 For tips, tricks, product knowledge and inspiration, check out Golden Artist Color's Vimeo here.