35th Anniversary Sketchbook Exchange Project.
Celebrating 35 years in business is exciting for  all of us at The Paint Spot. We're brainstorming ways to commemorate this big milestone next year. Google suggests the usual things like private-label swag, customer appreciation promotions, give-always, gala events and, of course, cake and balloons. Sounds fun but when the party is over what is left?
We're in  a creative industry and should be able to come up with something more interesting. Our desire is to be more collaborative in our celebration. Perhaps because we feel closer to our customers than most businesses. The Paint Spot has been along in some of our art adventure every step of the way. From getting started; choosing supplies for our first art class; putting together our first portfolio submission for art school; straight through graduation; and onto our gallery shows. Looking through the archive of Art Walk images we can see how our art has changed.
Through the years, many of us shopped here as kids, worked here as students, and now bring our own kids and grandkids to The Paint Spot. We've watch our neighbourhood and business develop too. Our shop has moved 6 times as we've grown and changed. We're not done yet. Art materials are still evolving. The Paint Spot is still here, the shop is still a work in progress, and we're still loving it.
#stillsketching2020
Let's take a moment to note and celebrate our history though a little visual story telling. You are invited to help us illustrate an archive. Over the next several months we are hosting a sketchbook exchange project. Add a drawing, painting, cartoon, doodle or caricature into our book and we will add art into your book.
Join us:
Read the #stillsketching 2020 guidelines and procedures.
Buy the recommended sketchbook. Click on image below to order on line.
In your book, create your rules, prompts and make art on the front page. Here is our example: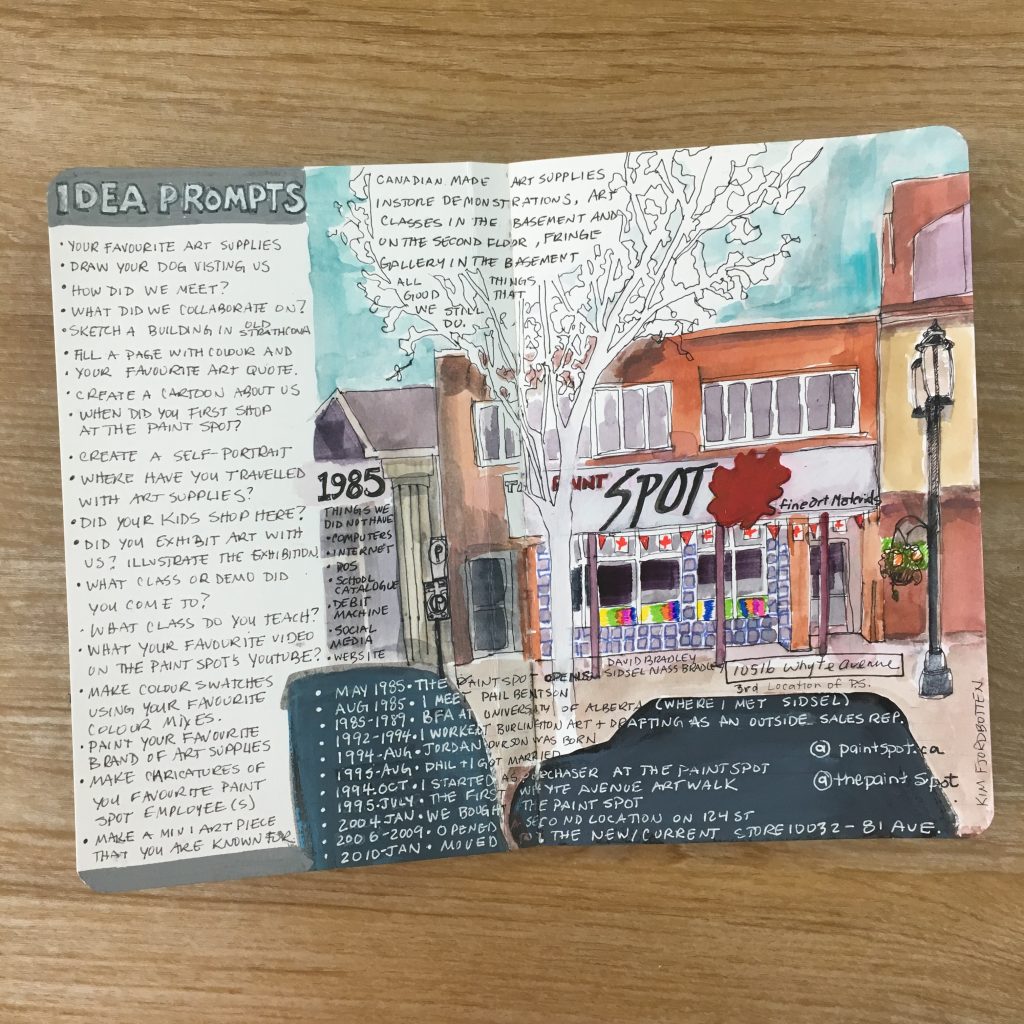 Bring your book to The Paint Spot and register it in the book exchange library. We will attached the library index card (Image below).
Sign out The Paint Spot's book and contribute art on a page or spread.
Return The Paint Spot's book in a timely manner and sign out another book.
While you are making art in books, other artists will be filling your book.
Everyone is encouraged to share art through Instagram using #stillsketching2020
We will host the growing collection in a The Paint Spot's Facebook Photo Album
We hope to have 35 books on the go or finished by May 2020.
The project will continue until December 31, 2020.
Stay tuned, for more new about our anniversary trade show, demonstrations, and deals.  Yes, of course, there will be cake and balloons too.