Marabu Art Crayons
Are you looking for innovative tools for drawing and painting mixed media? Check our Art Crayons and Art Sprays videos and project ideas.
Number of Colors Available 25 + Blender
Most Permanent Workable Surfaces Paper, gesso, wood, dry acrylic mediums and grounds, plaster, bisque-fired clay and most absorbent or semi-absorbent surfaces
Least Permanent Workable Surfaces Glass, metal, ceramic glaze, or other nonabsorbent surfaces. Not suitable for fabric that will be washed.
Techniques Mixed media, stenciling, monoprinting, stamping, transfer, watercolor/wet into wet, thick application smudging/blending, subtractive with a damp cloth and sgraffito.
FAQs Artist quality • Coverage 164–229 linear ft.
Blends similarly to a high quality, soft oil pastel
Lightfast, highly pigmented, and water-soluble
Cleans up with soap and water
Recommended for 6 years and over
Reworkable longest on surfaces such as gesso (up to 3-6 hours after application)
Sets up faster on absorbent surfaces such as paper
Use with acrylic paints, gels and mediums, sprays, watercolor, pastels, and other dry media
Can be used on walls • Wipe-resistant after 24 hours; not washable
Apply a light spray fixative for semi-permanence
Recommend the application of a water-based UV-protectant varnish on high-traffic areas
Use synthetic or synthetic/natural fiber blend brushes
Marabu Art Sprays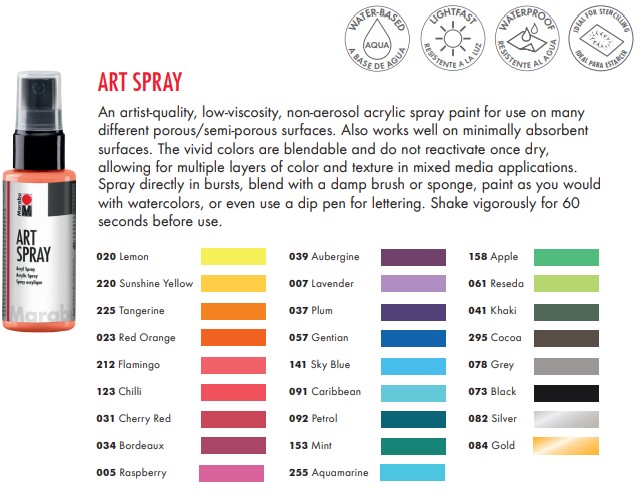 Number of Colors Available 24 + 2 Metallics
Most Permanent Workable Surfaces Paper, gesso, leather, wood, acrylic mediums and grounds, plaster, bisque fired clay and most absorbent or semi absorbent surfaces such as vinyl, polypropylene and polyester
Least Permanent Workable Surfaces Glass, metal, ceramic glaze or other nonabsorbent surfaces Techniques Mixed media, spraying, layering, watercolor, stenciling, monoprinting
FAQs Lightfast and highly-pigmented
Test before use
Cosmetic-grade spray nozzle for a fine mist
Spray at a 45 degree angle altering distance from the surface to vary the look
Transparency varies
Re-workable when wet, permanent when dry
Ensure surface is clean with no water repellant or UV coating
When working on leather or synthetic leather, remove any coating with a light solvent
Coverage 7.52 linear ft.
Spritz wet color with water or alcohol to create interesting textures
Sprinkle salt on wet color for a marbled effect
Use with acrylics, gels, and mediums; aerosol sprays, markers, watercolor, pastels, and other dry media
Works over wax for cold encaustic techniques
Can be used on walls
Application of a water-based UV protectant varnish is recommended on high-traffic areas
Between uses, turn the bottle upside down and pump the spray to empty and clear excess paint
Wipe nozzle clean with a damp cloth
If the spray becomes blocked, remove pump and rinse well
Nozzle can be cleaned by carefully inserting a pin into the sprayer • Use synthetic or synthetic/ natural fiber blend brushes
Project Ideas