Best Art Supply Store in Edmonton
The smiley faces are on the cover are the Platinum Winners of Vue Weekly's "Best of Edmonton". The Paint Spot has won this award 17 times! Thank you to the Edmontonians who voted for us. We are grateful for the wonderful customers and artists who support us. Nothing should be taken for granted, and this type of recognition fuels us to do even better.
"It is our 36th Anniversary but we've only been in our new location for 10 years. The store is getting closer to being completed. It is a lifetime project and I never expect to be done nor rest on my laurels. The feature wall of our Vue Weekly awards is very nice to see. I once heard a customer say "Wow this store feel like unlimited potential" That's when I know we're getting close to the goal. To me, winning isn't about getting there first. It is about taking as many people as possible with us!" – Kim Fjordbotten
What keeps our little shop on 'Best of Edmonton' list?
Helping customers goes beyond selling them the right stuff at the best price. Here are the top ten things we focus on.
1. Artists in Residence Everyone who works here is an artist. Sharing our experience is the fun part of our day. We display art work, teach classes, and share our training and understanding. Talking about art with artists is what make this the best job in the world. Meet our artists.
2. More Examples and Samples Yes, the store is well-stocked and tidy. What makes it unique is the number of examples and project ideas on display. We are always testing and trying new things. Showing how each material can be used is both educational and inspiring.
3. Quality, Pre-tested Materials We believe that quality over quantity will save you time, money, and frustration. For example, a good brush makes all the difference in painting. The most difficult part is convincing beginners they are worth a good brush. Luckily, a brush (like a magic wand) will choose you. You can test each brush before you buy it. Our brush section got a facelift last week. New brushes and great deals for fall will make your next visit an adventure.
4. Responsive to Customer Requests  If we can make it easier or more affordable for artists, we are willing to give it a try. For example, we just received a new selection of Ready-to-Use Frames. Look for them on the new bright green wall behind our front counter. These frames will help artists framing their art for gifts, exhibitions, and festivals. We sponsor many Kickstarter Campaigns and bring new materials into our market like Etchr Lab, ArtTool Kit, and Maker's Cabinet.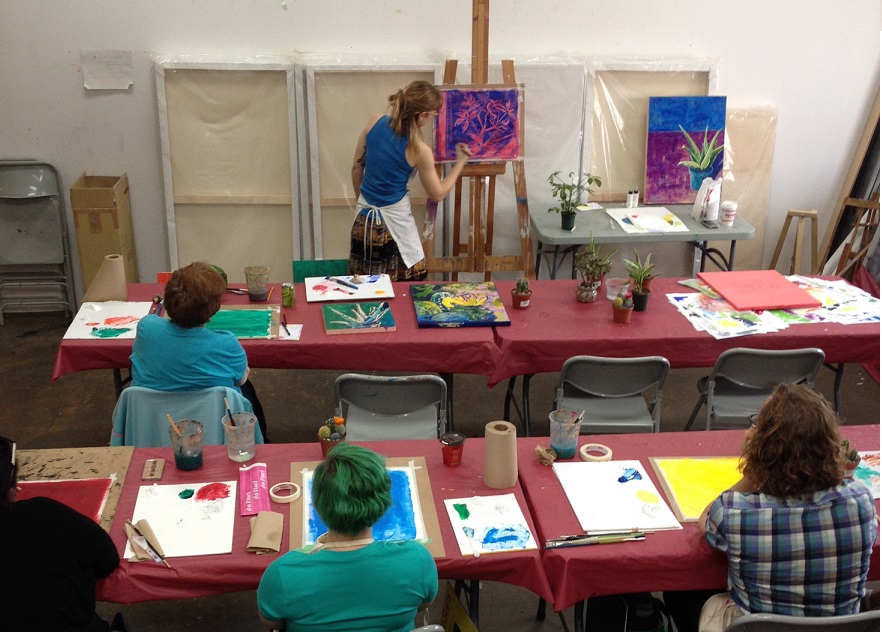 5. Workshops and Classes Time for art, space to work, and permission to make a bit of a mess are popular reasons beginners are drawn to The Paint Spot's studio space. Booking a class is a commitment to your professional development. All instructors are vetted for professionalism and product knowledge. I hear instructors cover more topics in a one-day workshop than I got in a whole semester at university! There is a nice balance between traditional and experimental techniques sure to help both beginner and intermediate artists.
6. Champion of Canadian-made Through our many contacts with Canadian manufacturing such as Greys Paper, St Armand, Gotrick, Stevenson, Tri-Art, Demco, Nitram, and Heinz Jordan we are able to carry over 30 lines of products made in our own country. This is important to our national economy. Also a necessity for keeping prices affordable when we are faced with volatile exchange rates.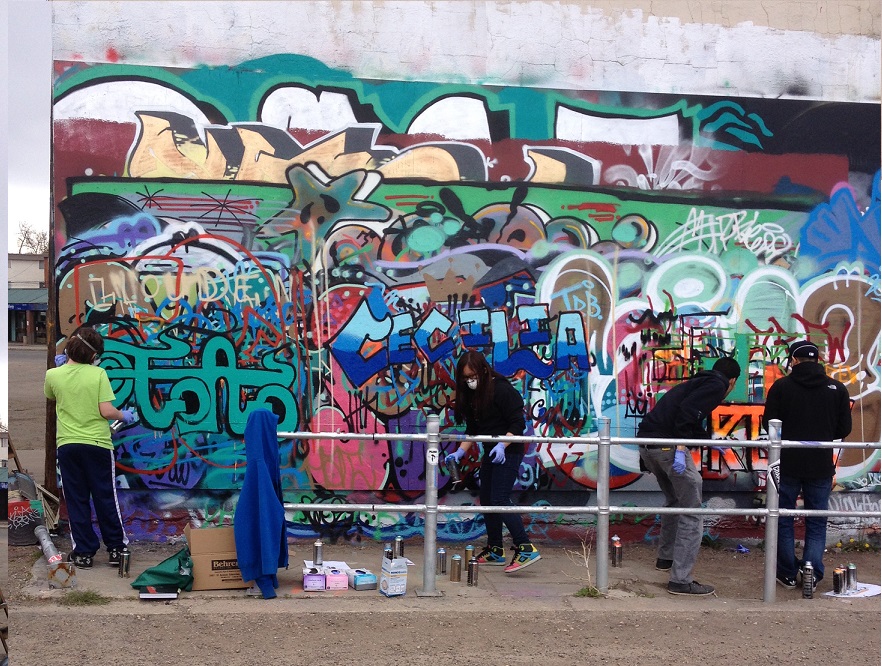 7. We do not shy away from controversy in support of the Arts To support Aerosol Art while our city focuses on cracking down on graffiti vandalism has been a challenge worth working through. We are hopeful for the Open Source Street Art, Aerosol Arena, and AJA Louden's Aerosol Academy. The Molotow brand for premium spray paints and markers was this summer's addition to the ever-growing urban art section. Molotow Spray Paints are unique and intense. They must be experienced. Molotow Markers are acrylic paint markers made to write on everything. They are refillable and the tips are replaceable.
8. Opportunities for artists Helping artists exhibit and sell their work helps our visual arts community become stronger. We invest considerable resources into the Naess Gallery. Visit our Artists Talks on YouTube. Of course, the 26th Annual Whyte Avenue Art Walk is our proudest accomplishment.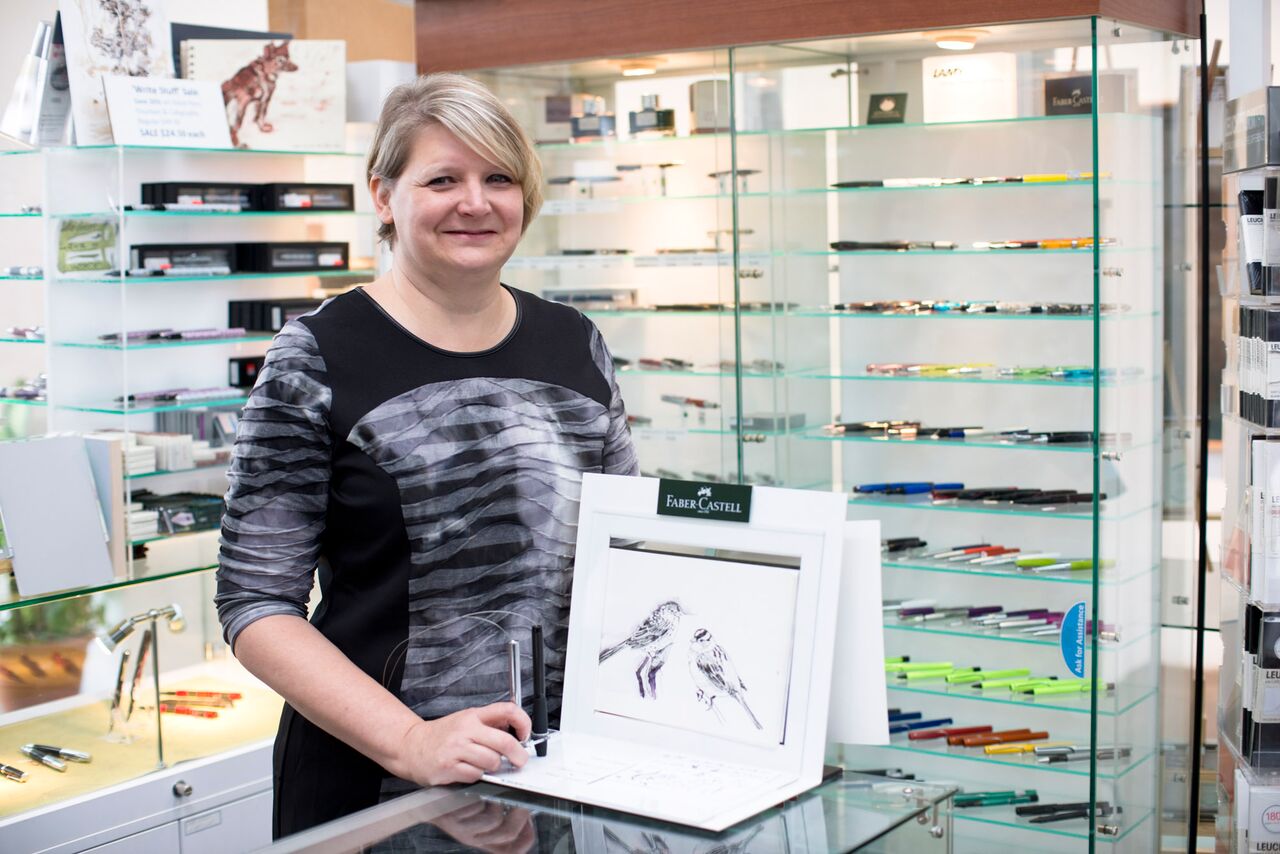 . Filling in when others have left  Notables closed last summer, leaving many writers seeking a new source for fancy pens. Our collections of fountain pens has grown to include Faber Castell, Monteverde, Visconti, and Lamy. It is our pleasure to announce that we are now the official dealer of Hugo Boss fine writing pens. We have completely reorganized our pen section to accommodate 65 new pen designs. Hugo Boss will add to our already impressive selection of fountain pens, rollerballs, and ballpoints. We also offer ink refills, bottled ink, and pen repair.
10. The Number One Reason We're the Best YOU! Our customers, of course! Especially the ones who get as excited by art supplies as we do. You keep us on our toes by asking the tough questions we have to research. You challenge us to do better every day.
Shop Local. Keep your city unique. Support the stores you want to see grow.
Thank you friends!
– Kim Fjordbotten
(September 2015 – Updated June 2021) As owner of The Paint Spot, Kim Fjordbotten is passionate about helping artists use materials and make art. She is available as a speaker and educator for teachers and art associations. The Paint Spot offers exhibitions, workshops, and beautiful art materials to inspire your creativity.