In Person Art Classes
Update September 2021.
It is a great time to start art! Small classes are the key to safety, personal attention, and room to paint. Our instructors are experienced and generous with their time and talent. Registration is limited to 10 participants and work stations are well spaced out.
Proof of 2x Vaccine is necessary. Masks must be worn at all times. We no longer offer shared supplies. Hand sanitizer and disinfectant sprays are available. The room has a robust air purification system. With all these precautions we must advise students and instructors that use of Artelier Studios classroom is entirely at their own risk. Please contact us immediately if you feel you or someone in the class may have been exposed to Covide-19. We will notify all participants immediately.
Would you like to book time and space in our studio? See our calendar for availability.
Online Art Classes

We are excited to offer online courses. Connect with our instructors and learn at your own pace. Upon registering, you will have unlimited access to these courses for 24 months. It is exciting news that these sessions are permanent offerings and ideal for artists living outside of Edmonton. No longer will distance, heath issues, or work schedules interfere with our desire to teach and your willingness to learn art. What courses would you like to see added next?
Map for in person classes
We have NEW LOCATION for art classes by The Paint Spot. It is right across the street. Our main entrance is from the back parking lot. Please see the map. On weekends and evenings there are 23 free parking spaces behind the building. Our main entrance is from the back parking lot.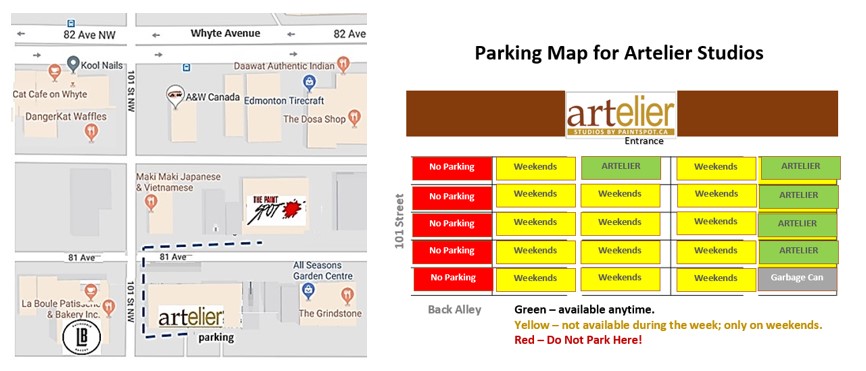 Would you like to book our studio?
See our calendar for availability.
Your cancellation deadline is : 3 business days before the class.
Watch for communication from us! Be sure to check for messages before heading out to class. In rare cases, The Paint Spot or the instructor may cancel or postpone a class due to emergency or dangerous weather. We will contact you by phone or email. All registration fees will be fully refunded. You may also choose to join the postponed class or put your refund towards another class.
Please phone 780 432 0240 or email: accounts (at) paintspot.ca. If you cancel your registration prior to the deadline, we will credit the full amount on a gift card you may use on art materials or put towards another art class at Artelier.
If you find you are unable to attend at short notice (after the 3-day deadline), you have three options.
1. You may find your own substitute, in which case any financial transaction is between you and your substitute. Please notify us by email or phone so we can update our records to minimize confusion for the instructor.
2. If we are able to replace you from a waiting list, we will refund you less a $30 administration fee.
3. If you cancel after the registration deadline but prior to the day of the class, you will receive a partial refund of 50% of registration fee on a gift card to use for art materials or another class. (40% goes to the instructor to cover prep-time and materials for the class and 10% is for The Paint Spot administration).
There are no refunds for cancellations or no-shows on the day of the class. If you fail to attend your scheduled class without required notification, as outlined above, your fee will be forfeited.