Description
Stoneground Winter Landscape Palette
Perhaps the most Canadian of their watercolour sets, Stoneground Paint Co.'s Winter Palette is a collection of warm and cool colours. The colors selected for the Winter Landscape Palette mix well, to create a wide range of wintery colors. This versatile palette is effective for painting everything from dramatic Dutch-inspired still life compositions, to delicate florals and bold landscapes, no matter the season.
Artist Notes: 
You can use the warm colours in this palette to adjust the temperature of Ultramarine Blue and Delft Cobalt Blue. Combine Golden Ochre and Ultramarine Blue for a deep green, useful for rendering distant hills in landscape work. Try blending Golden Ochre with Manganese Violet for warm browns that make interesting colours for grasses. For light and airy florals, use varying amounts of Manganese Violet and Ultramarine Blue for blossoms. Create deep, dark shadows in water using Delft Cobalt Blue.
Palette Contains: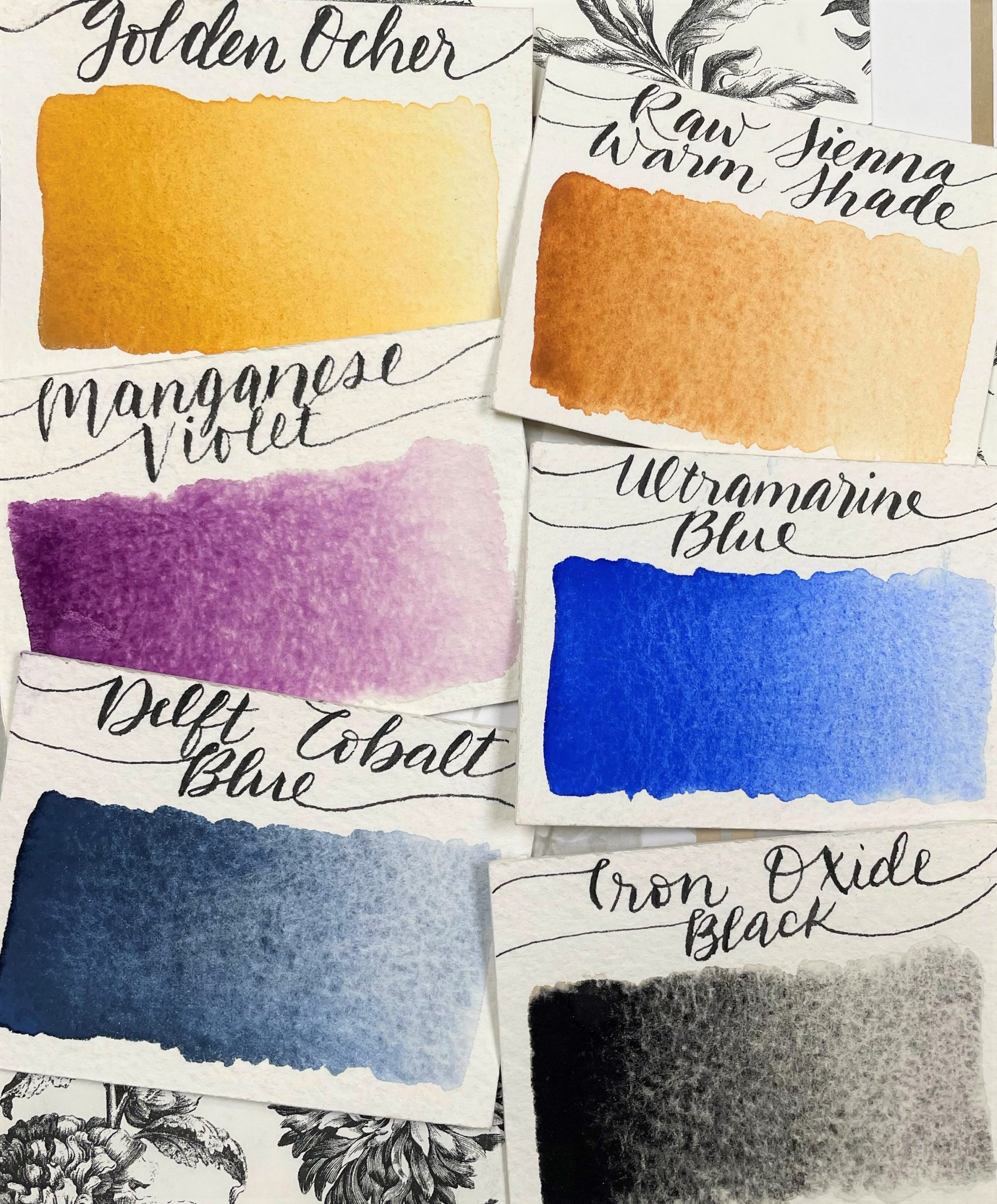 About the colours:
Golden Ochre is a natural yellow iron oxide that produces a bright, warm golden yellow with good tinting strength. Ochres are among some of the most indispensable pigments for landscape, still life, wildlife, portrait, botanical, and floral subject matter thanks to the wide range of earthy yellows seen in nature.
Attractive in full strength and in glazes, Manganese Violet is a red leaning violet that works particularly well in floral paintings and landscapes.
A vivid, deep blue, Ultramarine is an invaluable choice for any artist's palette and can be used in everything from illustration, to botanicals, and florals, as well as landscapes. Ultramarine Blue is arguably one of the most versatile and popular blues available.
Raw Sienna Warm Shade is among the most useful colours in an artist's palette. It produces warm foundation tints and is invaluable for landscape and portrait painting.
Iron Oxide Black is an opaque black with high tinting strength. It can be used in a variety of watercolour applications.
Delft Cobalt Blue is a deep blue-grey and our go-to favorite for moody skies, stormy seascapes, and dark shadows. A wonderful addition to any palette for landscapes, botanicals, and still life, as well as illustration work. Delft Cobalt Blue is beautiful when used full strength or in subtle washes.