Description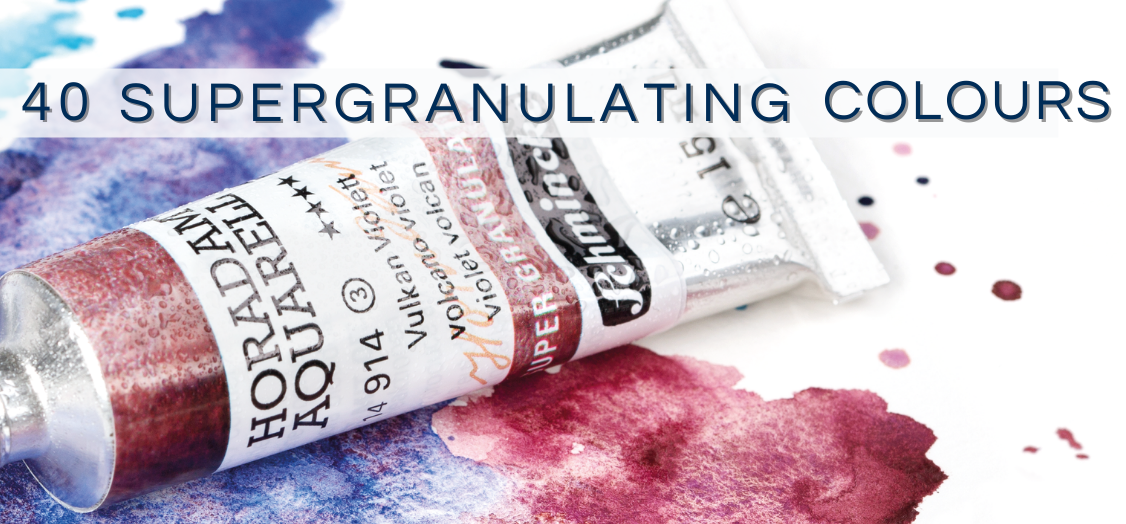 Horadam Aquarell SuperGranulation Watercolours
HORADAM Aquarell "Supergranulating Colours" are available in 15ml tubes as well as sets and a convenient dot card. With these unusual supergranulating watercolours, Schmincke is expanding the possibilities of granulating watercolour painting to include colours with a super-granulating appearance. The combination of at least 2 granulating pigments intensifies the granulation effect. Thus pigments mass together on paper, creating "super granulation".
These new colours are formulated with pigments from different colour ranges, so the granulation effect results in additional colour changes. For example, Deep Sea Indigo combines violet and green pigments, while Glacier Brown contains a brown and a green pigment. This novel, natural structure of colours varies depending on the substrate and amount of water used. The rougher the paper is, the stronger the granulation effect will be.
All supergranulating HORADAM AQUARELL colours have 4 and 5 stars lightfastness ratings. The opacity of these colours is predominantly semi-transparent or semi-opaque.
All supergranulating colours can be used on their own oe in combination with all 139 HORADAM AQUARELL watercolours as well as all AKADEMIE Aquarell watercolours.