Description
Qor Watercolour Grounds
New Grounds Equal  Surface Diversity and Customization. QoR Watercolour Grounds bring a totally new wave of expression to watercolors. Watercolor Ground transforms nearly any surface into an absorbent, bright white painting surface similar to hot-press papers. Cold Press Ground and Light Dimensional Ground transform surfaces with texture, ranging from toothy cold-press style surfaces to lustrous modeled surfaces.
QoR Grounds offer watercolorists three easy to apply products for use on surfaces such as wood, canvas, and paper. They are flexible, absorbent, acid free, and compatible with watercolors, acrylics, and drawing media (pencil, ink, etc.). They may also be tinted with small amounts of acrylic paints without noticeably altering the absorbency. Adding more than 5% acrylic paint will begin to change how color washes behave.
QoR Grounds may be blended together in any amount or layered on top of one another to create custom surfaces.
Qor Watercolor Grounds (8 oz plastic tubs):
Qor Watercolour Ground (8 oz) is a fluid acrylic primer that creates a porous surface similar to hot press paper on many different materials, including canvas and panel, Watercolor Ground dries to an absorbent, lightfast and flexible surface that withstands repeated lifting and scrubbing. Suitable for a full range of watercolor techniques, including wash and staining effects, it can be used to return stained areas to an absorbent white surface. See our video about this product.
Qor Light Dimensional Ground (8 oz) is a white, lightweight paste that spreads like frosting. It can be applied smooth and thinly, or built up to create ridges, peaks and other interesting textures. The extremely absorbent surface of Light Dimensional Ground allows washes to spread quickly, while accommodating fine lines and detail as well. Dropping color into lightly wetted areas creates beautiful blooms. See our video about this product.
Qor Cold Press Ground (8 oz) creates an absorbent, cool white surface with the appearance of rough handmade paper. A smoother finish can be achieved by skimming with a wet palette knife during application. Ideal when a rough texture is desired for emphasizing dry brush techniques. See our video about this product.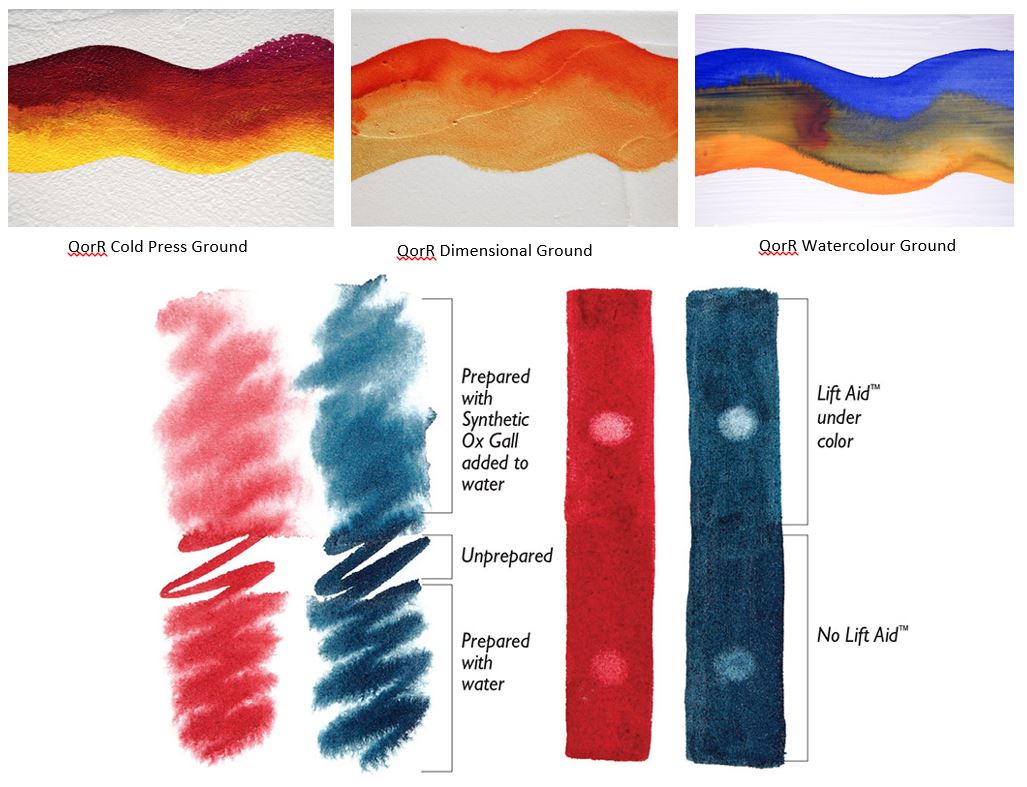 Surface Preparation
Watercolor papers do not require extra preparation before applying QoR Grounds.
However some materials such as hardboard or linen can cause a yellowish-brown discoloration known as SID, or Support Induced Discoloration. If SID is a concern, apply two coats of GOLDEN GAC 100 or Gloss Medium, and let fully dry before applying the QoR Ground.
Qor Watercolour Ground
Purpose – A brush-able base coat useful for creating a smooth hot press paper-like absorbent surface.
Use as Ground – Allows for watercolor techniques on virtually any paintable substrate. The smooth surface remains flexible with a soft feel. Use to create custom watercolor panels or canvases. After the last layer has been applied, allow 24 hours or longer to fully dry before applying paint washes.
Application – Apply two or more coats of Watercolor Ground to paper, panel, canvas or other desired surface. Allow sufficient time (usually 24 hours or more) for the layers to fully dry before applying watercolor washes. Up to 20% water (5:1 ground to water ratio) may be added to improve leveling. Watercolor Ground may be sanded for a smoother surface, with wet sanding providing the best results. Avoid coarser grits as they can leave scratches that will become highlighted when washes are applied to the surface.
Qor Light Dimensional Ground
Purpose – creates a lightweight dimensional, absorbent surface, similar to cold press watercolor paper. It can be applied smoothly or used to create a highly textural layer.
Watercolor washes lift easily, including colors that are usually listed as staining.
Application – Apply with brush, knife or trowel as desired, and allow to fully dry. This product is non-leveling and will retain the tool marks in the dried surface. Use a wet application tool to create a more even layer. Thicker applications may take several days before they are ready to be painted.
Qor Cold Press Ground
Purpose – Creates a rough paper-like surface that easily accepts color washes and produces variations in staining. The fibers in Cold Press Ground are synthetic and will not break down from acids or age.
Application – Apply Cold Press Ground with a palette knife or trowel. Apply evenly for a smooth paper quality or vary the application for increased texture. Once applied, wet the application tool and use to smooth the surface to create a more even layer. Allow the layer to fully dry. Thicker applications may take several days before they are ready to be painted.
Protecting Painted Watercolor Grounds
Although these grounds are not made with cotton rag like many watercolor papers, they are still absorbent materials. Because of that, watercolors painted on them will need to be protected against environmental factors such as humidity, pollution, dust, handling and sunlight. To achieve this, QoR Grounds can either be framed like traditional watercolors done on paper or they may be varnished. For complete instructions, please review the information sheet Varnishing Watercolors.