Description
Strathmore 300 Watercolour Paper Pads
Strathmore 300 Watercolour is an economical, heavyweight, student grade paper best suited for watercolour and some acrylic painting. The heavyweight watercolor paper has a rough, non-mechanical surface that adapts beautifully to a variety of watercolor techniques. This watercolor paper has two distinct finishes. One side is cold press which is the most popular surface for most watercolor work, while the other side is smooth with only a hint of texture.
Trusted by Art Students, this 140 lb, acid free paper is ideal for student-level artwork. The Cold Press Surface is best for experimenting and practicing watercolor techniques. Use in the Studio, While Traveling or In Class. The strong backing and stiff cover helps keep your paper pristine between locations. The tape binding allows for safe, easy removal of each sheet without risk of unsightly tearing. Acid Free. Rest easy knowing your paper won't be effected by prolonged exposure to light. Your artwork will stay bright and vibrant for generations!
Details:
Paper Weight: 140 lb.
12 sheets
Economical
Acid free
Top Tape-bound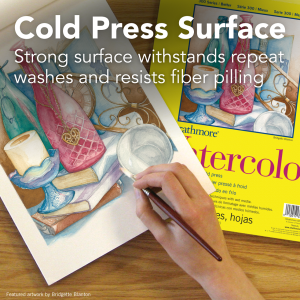 Strathmore Paper Company began St. Patrick's Day in 1892, when Horace Moses opened the Mittineague paper mill in West Springfield, MA. Ever since then, Strathmore has been a leading supplier of fine art papers under the belief that better paper makes better art. Strathmore provides artists of all levels with one of the widest ranges of quality surfaces for producing beautiful works of art, no matter the choice of medium. Listening to the needs of artists and providing inspiration, education, and innovating new products is at the core of what matters to Strathmore.
The 300 Series was developed for quick studies and for the practice of techniques with any media, as well as final artwork by beginning or student artists. The 300 Series Watercolor paper pad contains 12 sheets of heavyweight, student grade, watercolor paper with a cold press surface. Best suited for experimenting and practicing techniques when heavier washes and reworking are required. The surface resists fiber pilling even when lifting color or scrubbing.
Strathmore – Make Something Beautiful | The choice of an art surface is one of the most important decisions an artist makes in determining the outcome of their work. Whether your choice of medium is watercolor, charcoal, pastel, pencil or pen and ink you can be confident that Strathmore will enhance your artistic efforts. Try their range of drawing, painting, sketching, tracing and mixed media papers today!
Art example by Bridgette Blanton
Find more Strathmore products here.
Looking for inspiration? Check out Strathmore Art's Instagram here!