Description
This game is so much fun. It blends creative play and collaboration to create a group art project. Both adults and kids can play. It is perfect for painting parties, birthday parties and any social event looking for an interactive art-activity to encourage social interaction and a mingling of creative minds.
It is brilliantly designed so that you can play on your own or with a group and create beautiful and unique artwork. The cards provide clear and distinct directions for each players' turn. It makes it easy for everyone to be creative.
It is ideal for the classroom as it offers suggestions based on colour theory, composition, and mark-making. The game does not require students to have special art talents, making it an accessible experience for all. Kids stay interested in it and it will become such a staple your classroom, home and even on vacation.
TAG the Art Game with Art Supplies comes in a sturdy reusable box with everything you'll need for hours of creative fun. The supplies provided are a great starting point and you can easily add your own so that the game will last forever. Endless fun for all ages
The game includes:
80 cards
Color Wheel
Dice
Instructions
16 oil pastels
8 watercolor paints
5 sheets of assorted color cardstock paper
7 sheets of assorted color tissue paper
2 sheets of metallic paper
3 sheets of 11″ x 15″ watercolor paper
scissors
glue
Paint brush
2 containers of glitter
TAG the Art Game without Art Supplies is great for those with a collection of their own art supplies like teachers, art therapists, artists, and crafters. This game comes with the game cards, dice, color wheel and instructions.
This version does not include art supplies.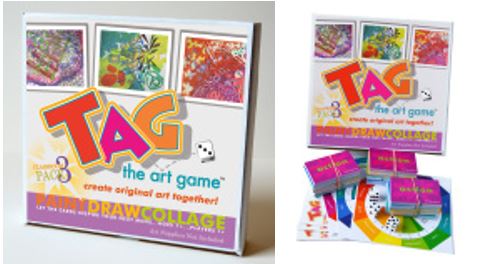 TAG the Art Game Classroom – 3 Pack comes with three complete games. 3-sets of card decks, 3-color wheels, 3-dice, 3-sets of instructions. Art supplies NOT included.
TAG the Art Game – Cardmaker Now you can play to make greeting cards! Just cut your TAG created masterpiece into smaller works of art and mount onto a blank card. Cardmaker comes with four blank cards and envelopes. All new action cards can be used by themselves or combined with the original cards for more play options. Art supplies are NOT included.