Description
Pebeo Tactilcolor Finger Paint
Features:
Water-based gouache suitable for finger painting
To offer toddlers a free discovery of painting through finger touch
Vivid and luminous colors, opaque and concentrated
Soft and creamy texture, easy to apply
Easy clean up with soap and water
Set Contents: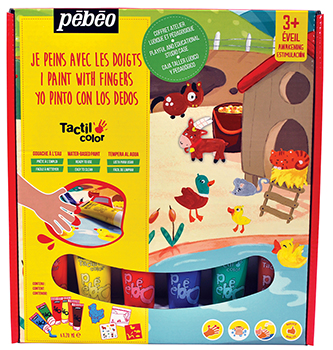 Pebeo Tactilcolor gouache is easy to clean off the skin with soap and water. In the event of fabric stains, wash immediately in hot water with soap. Repeat if necessary until the stain has completely disappeared. For more severe stains, using bleach-based or active oxygen-based textile stain removers may be required, provided that their use is compatible with the garment in question.
Tactilcolor gouache is composed of more than 77% natural origin ingredients, and is gluten-free and vegan. Tactilcolor can be applied directly to the fingers on paper, cardboard, wood, or using accessories such as stamps, foam rollers, stencils or brushes.
For children 2 years and older under adult supervision. Contains a bittering agent to prevent ingestion.