Description
Water-based gouache suitable for finger painting
To offer toddlers a freer discovery of painting through finger touch
Vivid and luminous colors, opaque and concentrated
Soft and creamy texture, easy to apply
Easy cleaning with soapy water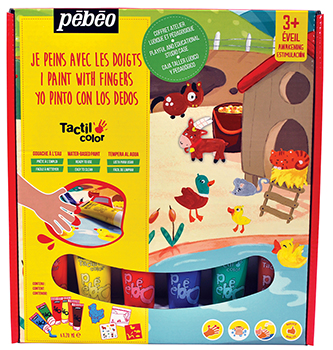 Tactilcolor gouache is easy to clean off the skin with soap and water. Washing with water will remove 100% of the binder (dextrins: sugar polymers) which is soluble in water. In the event of stains on textiles, wash immediately in hot water with soap. Repeat if necessary until the stain has completely disappeared. For more severe stains, using bleach-based or active oxygen-based textile stain removers may be required, provided that their use is compatible with the garment in question.
With a composition of more than 77% of natural origin, gluten-free and vegan, Tactilcolor gouache can be applied directly to the fingers on paper, cardboard, cardboard, wood, or using different accessories: stamp, foam roller, stencil or brush.
For children 2 years and older under adult supervision. Contains a bittering agent to prevent ingestion.