Description
Woodzilla 19 x 12.5″ hand lino press 
The Woodzilla 19 x 12.5 inch hand lino press, lino cut press, heavy duty, steel.
The Woodzilla is a heavy duty hand operated lino press, with 36 mm press plates. The frame of the 19 x 12.5″ Woodzilla press is based on the A3 press, but offers more printing space, and has about 8 cm longer pressing plates. This press is suitable for lino printing, but you can also use it for flower pressing, woodcut printing, as well as paper stamping, and much more.
These brilliantly designed presses are handmade in the Netherlands and come in a range of sizes to suit any relief printer's process, no matter the format. Woodzilla presses feature a vibrant range of colors offered in an expert finish. Because of their size, they are especially useful in a home studio or small workspace.
This is a brilliant piece of equipment for any printmaker in need of a larger press than regular A4 presses. The press is suitable for lino blocks up to 19″x12.5″, but can also be used for flower pressing, woodcut printing, paper stamping, etc. (printing area 32 x 49.5 cm)
It's steel frame is fully welded and has a powder coating finish, which is very durable and easy to clean.
The pressing plates have a 3-layer PU-lacquer semi-gloss finish. When you work with thicker materials, you can raise the upper plate by means of the 2 wing-screws.
During pressing this press is very stable. When not in use, you can simply place the press upright so it will take up little space in your workshop!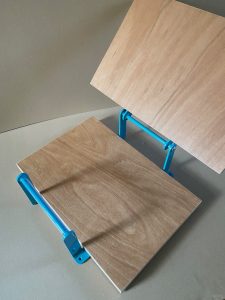 Due to the unique design of the press, you can apply force without risk of tipping over the press.
Also, you can mount the Woodzilla press to a table or workbench.
Anti-skid shoes under the frame prevent scratches on your work table and prevent skidding.
A felt press blanket is delivered loose with the press, which you can glue on the top plate depending on your needs.
The Woodzilla press is available the following formats:
19″ x 12.5″ (available in Matt Black, Orange and Turquoise)
A4 (8.25″x11.75″) *special order
A3 (11.75″x16.5″) *special order
A3 (11.75″x16.5″ – wide base) *special order
A2 (16.5″x23.375″) *special order