Description
Schmincke Aqua LINOPRINT inks are excellent quality, lightfast, water-based block printing inks.
All 15 colors as well as 3 effect colors are formulated with a gum arabic base. Schmincke Aqua Lino inks contain high quality organic and inorganic pigments. Also, they are characterized by particularly good lightfastness (at least 4-5 stars) as well as a unique depth of colour. All colors are ready to use and can be mixed with each other and thinned with water. Their optimum open time allows for a perfect finish, so prints have sharp contours and even results. Schmincke Aqua LINOPRINT colors dry within 15 minutes to be wipe-proof, but not waterproof, and can be overprinted if necessary.
Available in 35ml tubes. The 7 top colours are also available in 250ml squeeze bottles.
For special glossy or glazing effects, you can use some special mediums, for example the Schmincke LINO-Pearl, LINO-Gloss or LINO-Glaze. You can mix these mediums with aqua LINOPRINT colours or print straight onto prints.
Schmincke aqua LINOPRINT colours are ideal for block printing. Schmincke Aqua Lino has a pleasant smell, a perfect consistency, creates even, sharp, brilliant prints, dries fast and can be cleaned easily. All 15 normal as well as 3 effect colours (gold, silver, copper) can be used alone or can be mixed for brilliant results.
See the complete brochure here
Use with Schmincke AquaLino Mediums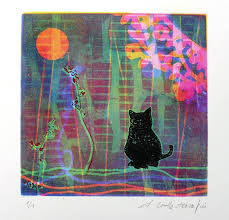 Project Idea: Gel-Printing with Schmincke aqua LINOPRINT colours
By the French artist Denise Crolle-Terzaghi
Technique
Lino printing is a relief printing technique where the design to be printed remains (laterally inverted) on the lino plate or other printing material (wood, foam rubber, etc.), and the parts that are not to be printed are removed (usually cut away or cut off). Special lino knives for lino printing are available from art material suppliers.
The print material
In addition to the lino printing technique with a special press used by many experienced artists, it is also possible to work with stamps, where, for example, the lino plate or the rubber plate cut into a shape is used as a kind of stamp. Woodcuts are also suitable for this process. For all techniques, the lino print colour should be rolled out thinly on a plate or palette. From there, they should be applied in a thin layer onto the printing block using a brayer. The design is then transferred to the surface (which may also be colored) onto which it is to be printed, by pressing evenly and smoothly with hands, a spoon or baren.
Surfaces
Many different materials are suitable as printing surfaces. Why not test the effect of your print on plain paper, colored card, felt or fabric? Remember that lino printing colors are not waterproof.