Description
New Wave Grand View Confidant Grey Wooden Palette
The Grand View Confidant Neutral Grey Stained palette offers smooth lines and a classic appearance. The surface area on this palette permits ample space for an assortment of colors, and sufficient space for mixing, holding your medium palette cup and/or paint cloth. This palette is brilliant for artists who prefer working with a mid size artist palette, young painters, or detail/finishing work. This palette contains a closed grasping area with an opening large enough to hold your paint brushes or a mahlstick. Available in both right handed and left handed formats.
Improve your color and value gauging with a neutral grey toned stain, while enhancing your mobility and focus while painting.
Details:
Material:  Hard white maple wood provides you with delicate grain lines that will not distract you while mixing paint.  In addition, the material is extremely light weight.
Patented Design:   The 3 point design provides a universal fit for all body types while keeping your wrist straight, and distributing the palette weight between the hand, rear forearm, and torso.   This ensures maximum balance and comfort, and significantly reduces stress on muscles and tendons in the hand, wrist, arm and shoulder.
Finish:  The palettes are stained, then finished with a non-porous proprietary satin formulation that is dense, and resistant to water as well as standard artist solvents and mediums.  In addition, the finish is crack proof, chip proof, non-yellowing, and freezer safe.
Proper Care: 
Best if used with oil paint. Avoid digging your palette knife into the surface, and do not use a razor blade. Wet oil paints can be removed with artist solvents and a plastic razor blade. If using solvents, follow proper care instructions provided by the manufacturer. Avoid placing Clove Oil directly on your palette, as clove oil will affect the finish. Please Contact New Wave with any questions prior to using your palette.
Size: 22.25″ x 17.88″ x 0.19″
Weight: 1 lbs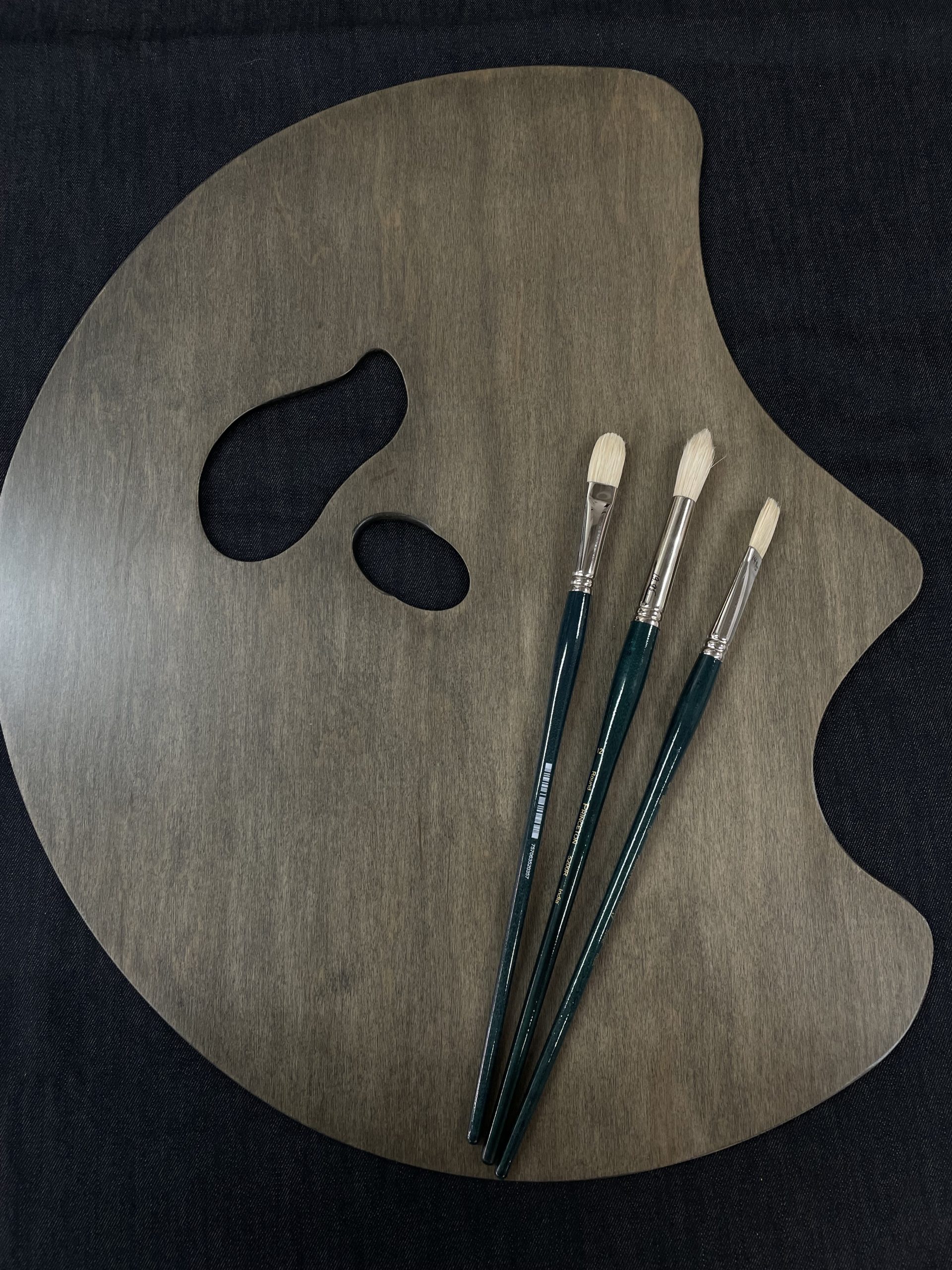 All New Wave maple wood palettes are handcrafted in Pennsylvania, USA. From design, to wood selection, sanding, branding and finishing. New Wave focuses on the details during each step of the process.