Description
The Vincent Van Gogh action figure comes with:
2 removable ears (Van Gogh cut his left ear)
1 bandaged ear
1 paintbrush
5 masterpieces and 1 cardboard easel
10 fun facts about the artist on the box
Transparent base
The action figure is 5 inches tall and made of PVC.
WARNING: CHOKING HAZARD. Small parts. This is not a toy. It is not designed nor intended for children under the age of 12.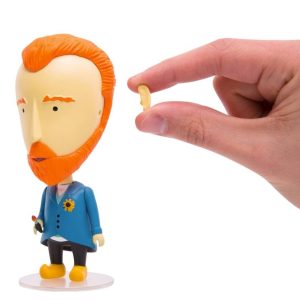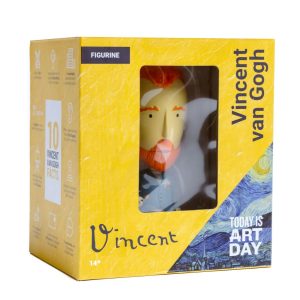 About Vincent van Gogh
Vincent van Gogh (born March 30, 1853, Zundert, Netherlands—died July 29, 1890, Auvers-sur-Oise, near Paris, France) was a Dutch post-impressionist painter who posthumously became one of the most famous and influential figures in the history of Western art.
In a decade, he created about 2,100 artworks, including around 860 oil paintings, most of which date from the last two years of his life. They include landscapes, still life paintings, portraits and self-portraits, and are characterized by bold colors and dramatic, impulsive and expressive brushwork that contributed to the foundations of modern art. He was not commercially successful, and his death at 37 came after years of mental illness, depression and poverty.