Description
A favorite with crafters, these well-reviewed adhesives are versatile enough to secure delicate materials such as balloons, ribbon, lace or children's crafts at lower temps, as well as stronger wood and metals at higher temps. Easy to install, handle and clean up. Dried color ranges from clear to milky white.
Product Features:
• Contains 25 made-in-the-USA glue sticks for bonding delicate-to-hardy materials including metal, wood, paper, fabric, magnets, ceramics, floral arrangements, glass and plastic
•Ideal for dual temp projects requiring glue temperatures of 230 degrees F to 380 degrees F
• Dries clear to cloudy white in 45 to 60 seconds
• Works well in low- or high-temperature mini glue guns
• Provides excellent glue flow with solid adhesion
Mini sticks (25pk): 5/16-inch diameter, 4-inch length.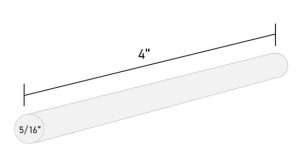 Full size sticks (20pk): 7/16 -Inch diameter by 4-Inch length