Description
Finetec Watercolor Pearlescent Colorful 24 Set
This Finetec 24 set features all 24 of the basic Finetec colors, and is a great investment. Finetec Pearlescent Mica Colours are handmade, high quality gouache colors. They can be dissolved with water and applied with a brush. Finetec Pearl Colours are perfect for creating special effects and highlights, they are also ideally suited for calligraphy. Handmade of extra fine mica pigments, these natural minerals are lightfast and non-fading.
[F2400] 24 Pearlescent Colours
The F2400 set includes the following colors in a plastic tin with a metal lid. Crystal Gold, Arabic Gold, Pearl Gold, Olympic Gold, Royal Gold, Bronze, Dark Bronze, Golden Rose, Orange Copper, Tangelo, Ruby, Red, Purple, Fuchsia, Amethyst, High Chroma Blue, Caribbean Green, Mint, Silver, Platinum, Blue Silver, Deep Black, Patina, and Twilight.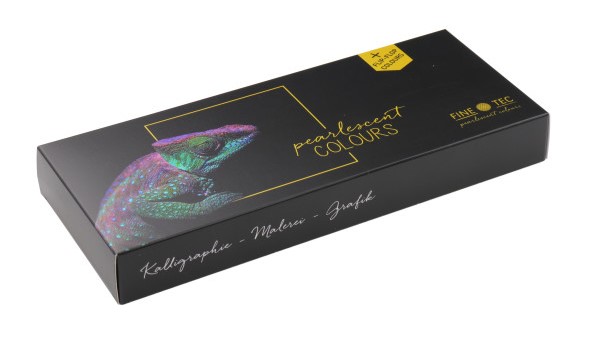 Details:
Pans measures approximately 1-1/16″ in diameter
Rare pigment and mica produces intense and beautiful effects
Luminescent properties radiate on dark surfaces
These metallic and pearlescent gouache colours dissolve with water and you can mix them with each other to achieve different shades. Finetec Pearl Colours are exclusively made in Germany and comply with CE standard.