Description
René Magritte Artist Action Figure
This René Magritte action figure comes with:
Bowler hat
Signature pipe
Foot-shoe (inspired by The Red Model)
4 masterpieces and 1 cardboard easel
10 fun facts about the artist on the box
Transparent base
The action figure is 5 inches tall and made of PVC.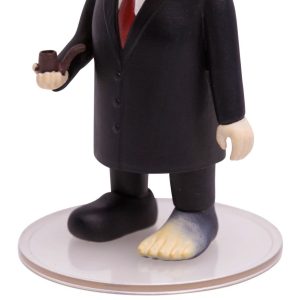 About The Son of Man

Perhaps the most well-known artwork of Belgian surrealist René Magritte, The Son of Man is in fact a self-portrait. The man standing in an overcoat and a bowler hat is Magritte himself, but his face is largely obscured by a hovering green apple. However, the man's eyes are visible, discreetly peeking over the edge of the apple.
Magritte said:
"Everything we see hides another thing, we always want to see what is hidden by what we see. There is an interest in that which is hidden and which the visible does not show us. This interest can take the form of a quite intense feeling, a sort of conflict, one might say, between the visible that is hidden and the visible that is present."
About René Magritte
René Magritte (born November 21, 1898, Lessines, Belgium—died August 15, 1967, Brussels) was a Belgian artist, one of the most prominent Surrealist painters, whose bizarre flights of fancy blended horror, peril, comedy, and mystery. His works were characterized by particular symbols—the female torso, the bourgeois "little man," the bowler hat, the apple, the castle, the rock, the window, and other ordinary objects, which were often set in unusual or unsettling situations.
WARNING: CHOKING HAZARD. Small parts. This is not a toy. It is not designed, nor intended for, children under the age of 12.
Magritte Artworks: © SODRAC (2017)
© Photothèque R. Magritte / ADAGP Images / Art Resource, NY (2017)