Description
This Claude Monet figurine comes with:
Water lily in his hand
Happy frog in his pocket
5 masterpieces and 1 cardboard easel
10 fun facts about the artist on the box
Transparent base
The figurine is 5 inches tall and made of PVC.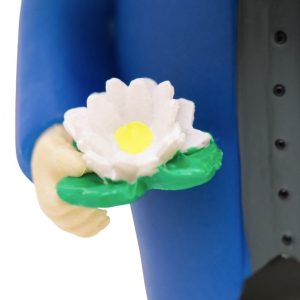 WARNING: CHOKING HAZARD. Small parts. This is not a toy. It is not designed nor intended for children under the age of 12.
***
About Claude Monet
Claude Monet (born November 14, 1840, Paris, France—died December 5, 1926, Giverny) was a French painter who was the initiator, leader, and unswerving advocate of the Impressionist style. In his mature works, Monet developed his method of producing repeated studies of the same motif in series, changing canvases with the light or as his interest shifted.
His popularity soared in the second half of the 20th century, when his works traveled the world in museum exhibitions that attracted record-breaking crowds.