Description
NEW!!  Your Favorite Fabric Block Printing Ink in 150ml tubes!
Speedball's new Fabric Block Printing Inks print on a range of fabrics with bold, opaque color, they dry to the touch overnight, and remain permanent through the wash–with NO HEAT SET REQUIRED!
Speedball Fabric Block Print Inks (150ml):
Excellent on cotton, polyester blends, linen, rayon, other synthetic fibers
Are ready for the wash 4-7 days after ink is dry and will
remain permanent through the wash.
Ink won't crack or peel over time!
Clean up easily with soap and water
Available in 14 colors! (transparent base available in 75ml)
Also available in 75ml tubes, a six colour set or Fabric Block Printing Kit!
Watch Videos
Introduction to Block Printing on Fabric
Block Print a Repeating Design onto Fabric
Printing Wearable Art onto Fabric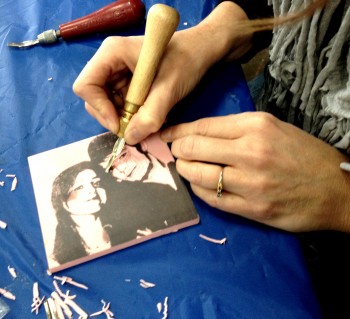 Inspiration for School Teachers and Community Projects
SPEEDBALL'S NEW FABRIC BLOCK PRINTING INK AT THE GOLDSTEIN MUSEUM OF DESIGN Over 50 students were able to enjoy hands-on experience with block printing using Speedball's new fabric block printing ink. Learn More