Description
New Wave uGO Tripod
Meet the New Wave ugo Tripod LCS1. Designed by New Wave specifically for the plein air painter. The LCS1 is a practical tripod that ticks all the boxes for studio use or outdoor painting treks. It is lightweight, compact, sturdy and affordable. Pair this tripod with a u.go Anywhere Plein Air pochade box and get painting outside!
Features:
u.go Tripod | Model LCS1
Lightweight | 2.9 lbs (1.32 kg)
Compact | Folded Height 13.8 in. (35 cm). Max Height 55.5 in. (141 cm)
Sturdy | Rigid 360 degree ball head swivel mount
Max Load 26.5 lbs (12 kg)
Features: Dovetail quick release plate, retractable weight hook, nylon loop, flip leg locks, aluminum alloy construction, carry bag
Compatible with all pochade boxes containing a universal 1/4 in. threaded tripod mount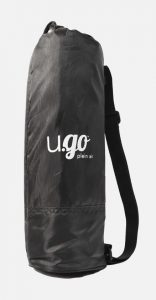 This product may not qualify for free shipping due to its size. You will be contacted after purchase about additional fees. You can also contact us for a shipping quote. Find our detailed shipping policy here.