Description
Suitable for both left & right-handed artists, this LARGER minimalist Slate Satchel is designed specifically to help digital & physical medium artists sketch on the go.
The Etchr Slate draws on learnings from the complexity of the Etchr Art Satchel and the simplicity of the original Nomad. The bag does not compromise on quality but is streamlined to be purpose built for sketching. Compared to the Art Satchel, the Slate is a lighter, more minimalist bag, designed to carry your essential items for sketching (phone, wallet, digital tablet, notebook, small laptop, drawing utensils, etc.).
The Slate won't carry all your art tools, sketch pads and hiking gear, but it is great for carrying essentials and for helping you make the most of your sketching experience wherever it may lead you. With the Slate Satchel and smaller Etchr Slate Mini, we hope the broader art community will now be able to benefit from some of the design capability that Etchr implemented in the Etchr Art Satchel.
Slate Dimensions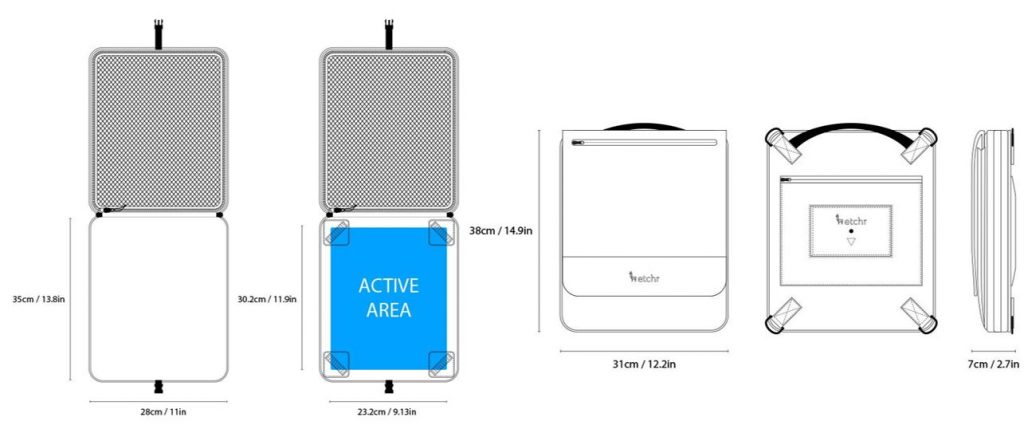 Supported Mode
Similar to the Etchr Art Satchel, the Slate offers sketching enthusiasts a stable drawing platform in both portrait and landscape format. Whether you use a traditional sketchbook or a drawing tablet, the small dimensions of the Slate make it super maneuverable and perfect for Urban Sketch outings or for live reference drawing in nature.
Easel Mode
The Etchr Slate includes Etchr's custom made back-plate that will attach to a tripod to create a stable drawing easel. This feature is similar to that in the Etchr Art Satchel, however the Slate lacks the straps that allow it to stay open at 90 degree angles. Because of this it is more useful for sketching than watercolor or painting. Unlike the Etchr Art Satchel, the Slate does not have the carrying capability to house a tripod and hence Easel Mode on the Slate is most useful for short trips or for use in a studio or for presenting work.
Carrying Capability
Whilst the Slate range is minimalist in design, it incorporates some of the specially designed modular components we used in the Art Satchel to carry your art tools.
Carrying Options
Etchr designed the Slate as a Satchel or Messenger bag given its relatively light weight and minimalist design. It also has a carry handle as an alternative carry option.