Description
da Vinci Luxury Travel Brush Set – Limited Edition
We are pleased to present this exclusive Limited Edition set for the 70th birthday of da Vinci's "Leonardo da Vinci" brand. These elegant and innovative watercolor travel brushes perfectly reflect the high quality standard of da Vinci Brush, and the innovative spirit of their namesake. This da Vinci Luxury Travel Brush Set includes 2 Series 10 Maestro travel brushes, size 2 and 8 round, in an attractive gift box. This brush set includes two interchangeable brush tips (size 2 and 8 round) that fit neatly into the beautiful handle. The brush tips snap into the handle, and can also be stored inside the handle for travel. The laminated handle also features an ethergraf tip for drawing, as well as an air hole to aid in brush drying.
By means of an elaborate click mechanism, the brush tip can be fixed, exchanged or stored safely inside the handle. The handle is made of water-resistant, hi-tech multi-colour wood and gives a particularly pleasant feeling when painting. This exceptional tool is finished with an Ethergraf tip at the end of the handle, that allows you to draw and sketch on many modern papers.
These brushes are hand-shaped by experienced and skilled brush-makers in Nuremberg. Each brush is lasered with the da Vinci logo, as well as the edition number. Individually packed in a high quality gift box with a case made of faux leather and a personally signed certificate of authenticity.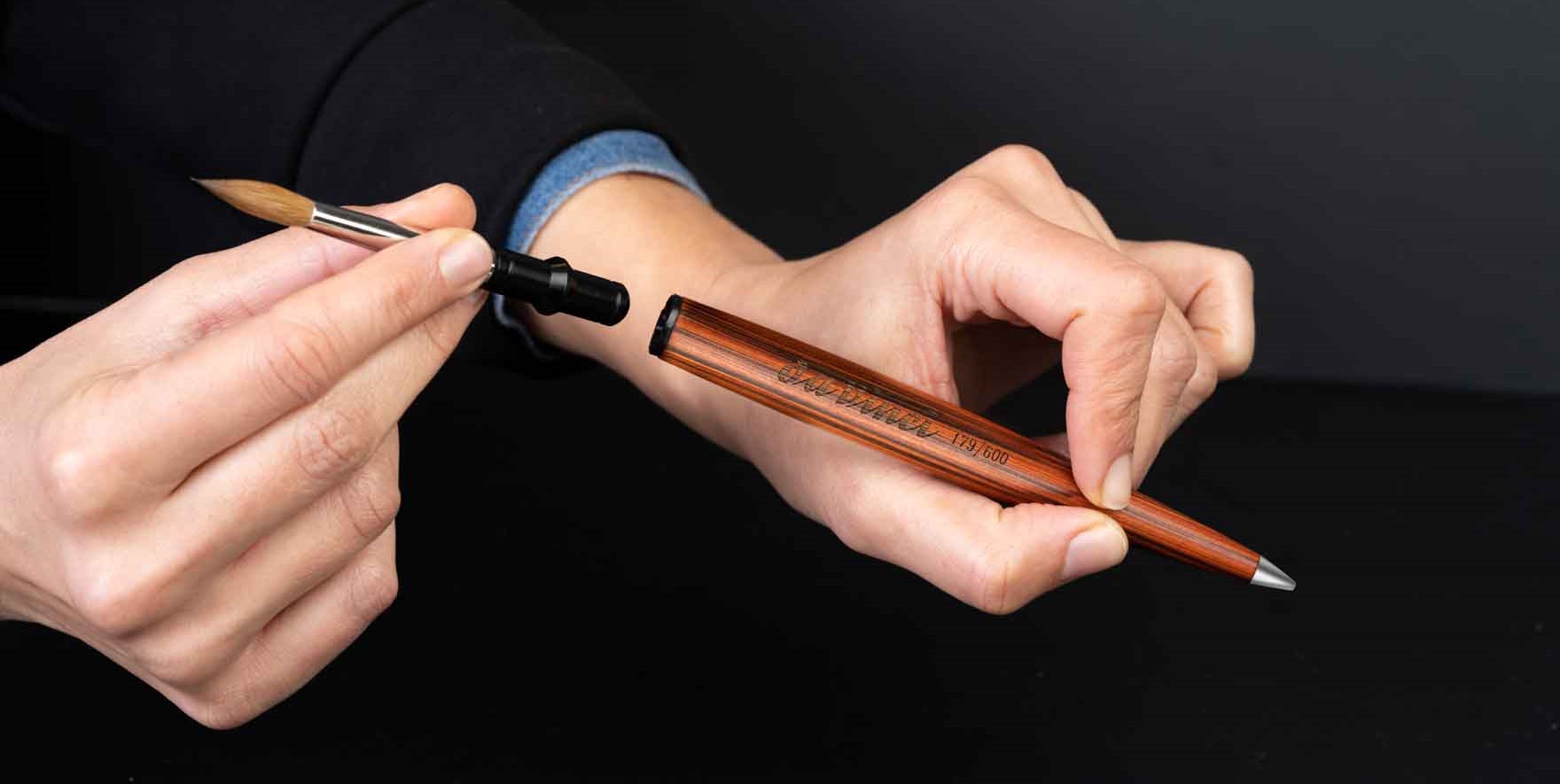 Features:
Selected Tobolsky-Kolinsky Red Sable hair
Two brush tips, size 2 and 8 round
Hi-tech multi-colour wood "Cocobolo" design
Limited Edition run of 600 sets
High quality gift box
Faux leather case included
Ethergraf drawing tip
About the brushes:
The da Vinci Maestro Series 10
Siberian Kolinsky red sable hair from selected male winter tails especially elastic with an extremely fine point
Perfectly suitable for watercolour, gouache, reverse glass painting, design, graphics, restoration
Selected Tobolsky-Kolinsky red sable hair, high elasticity and colour carrying capacity