Description
Princeton ASPEN Flat – SYNTHETIC BRISTLE
Princeton's Aspen flat synthetic bristle brush combines several important benefits to artists. The brush retains its shape for control and placement of color, paint releases and glides evenly off the synthetic hairs. This flat paint brush can be used with all acrylic and oil paints, including water-soluble oils. The non-glare ferrule makes Aspen perfect for outdoor plein air painting. A beautiful brush only surpassed by its performance.
Aspen Features
Next Gen Synthetic
Best release of color
Retains its shape for best color placement
Long Handle
Black non-glare ferrule
Find other Princeton Aspen brushes here.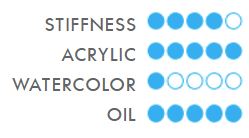 About Princeton Brush:
Artist Brushes that Inspire – In the hands of an artist, the brush becomes a tool to achieve their vision.
Princeton Artist Brush Co. – Creating Brushes That Inspire
Princeton Artist Brush Company is one of the largest brush suppliers in North America. Since the Company started almost twenty five years ago, there have been many changes to their business, yet their goal and mission is to continue to provide the best service and quality brushes to artists.
Princeton Brush History
Over 25 years ago, Howard Kaufman began a small brush business in the basement of his home in Princeton, New Jersey. Previously the president of one of the world's largest art supply manufacturers, Howard had gained a vast knowledge of brush-making as well as an understanding of the needs and desires of artists. He believed that by focusing on innovation, value and service, he would always have an appreciative audience for his products. Enter Naohide Takamoto, third-generation of Japan's revered Takamoto brush-making family. The two worked tirelessly to create the finest synthetic sable, beginning with Princeton's flagship Series 4050. Howard Kaufman and his team continue to innovate, inspire and set the industry standard in hair, handle technology as well as innovation. They have released Catalyst™ Polytip and Aspen™ in the past few years.
Princeton Artist Brush Co. has expanded and exists within the walls of a warehouse still situated near its roots in Princeton, NJ. Howard and his family along with a team of dedicated craftsman and experts continue to invent tools that move paint. They deliver them to the arts community with a passion for both the tools themselves and the artists that use them.