Description
Creating beautiful and dramatic skies with watercolour on Yupo
WITH KAREN BISHOP
4 WEDNESDAYS: OCT 5, 12, 19, & 26
7:00 – 9:30 PM
$168 + Supply List
Class Limit: 12 Students
Get over your fear of the white paper by throwing some paint around and letting go of your inhibitions with this 4-week class focusing on the Alberta Skies.
Over the weeks we will give ourselves permission to experiment with colour and washes as we create landscape paintings where the star is the sky! From simple one colour washes to dramatic layered stormy scenes, each week will focus on a different technique. As we progress, you'll overcome your fear of that first brush stroke and embrace those happy accidents learning how to trust your intuition and not overthink your artwork.
We'll enjoy the clarity of a clear blue summer sky, the serenity of a sunset, the mystery of the night sky, and the beauty of the northern lights.
If you're looking to enhance your landscape paintings, you'll love this class.
Week 1: Bluebird Sky

Week 2: Stormy Sky

Week 3: Sunrise/Sunset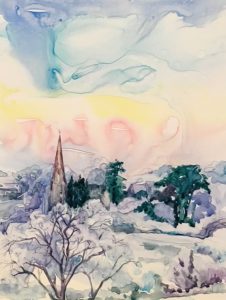 Week 4: Northern Lights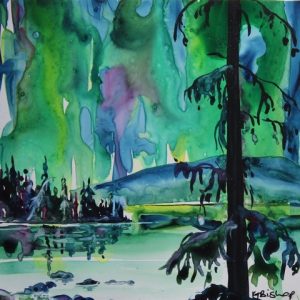 About the Instructor: Karen Bishop has been a professional artist for more than 15 years. She has been painting on Yupo for several years. Karen used to co-own Daffodil Gallery in Edmonton. She is a busy, enthusiastic artist and instructor.
To see more of Karen's work, check out her website and Instagram:
Website: karenbishop.ca
Instagram: @karenbartist
Suggested Supplies:
Watercolour Paint – Choose a high-quality brand such as Holbein or Schmincke. Below are the colours I use. Marked with asterisks are the ones I would definitely get. The others are nice, but you can live without them if needed.

Indigo*
Phthalo Blue
Cerulean or Horizon Blue*
Bamboo Green (Phthalo Green or Hookers Green also work)*
Green Gold
Quinacridone Violet or other purple*
Lemon Yellow or other light transparent yellow*
Cadmium Yellow Deep or other yellow on the orange side
Burnt Sienna
Cadmium Scarlett or other medium red*
Yellow Ochre or Raw Sienna*

Brushes – #6 or #8 Round brush, #12 filbert (1¾" flat brush works fine too), 2" flat brush for the washes, a teeny brush for finer detail
Heavy or Medium Yupo Paper – pads in various sizes, 9 x 12" is a good beginning size
Palette with a large centre mixing area
Board and tape to attach your paper to, rag or paper towel, water container, sketchbook, pencil or art pen
Suitable art clothes, notebook, snack, drink, and your own PPE (mask, hand sanitizer)
You will receive a 20% discount on all art supplies from your registration until the end of the class!
Artelier is located at 10045 81 Avenue NW (back alley entrance). The workshop space is one block south of The Paint Spot.