Description
Photo Encaustics Workshop WITH DONNA HANSON
SUNDAY, FEBRUARY 26
12:00 PM – 5:00 PM
$85 + $40 Supply Fee
Class Limit: 10 Students
INTERMEDIATE LEVEL
If you want to create a unique painting that draws people in, this class is for you. In this class, Donna Hanson will guide you through the process of incorporating photos printed on tissue paper into a textured encaustic base.
This is an intermediate class where we will review the application and fusing of the wax surface. We will then take it further and use other tools to create unique textured surfaces which we will enhance with colour through the application of encaustic paint, oil sticks, and other media. In this 1-day workshop, you will complete a 10 x 10" photo encaustic painting.
You must have a working knowledge of encaustic painting or have taken a class with Donna previously.
New to encaustics? Check out Donna's beginner class: Playing With Hot Wax: An Introduction to Encaustic Painting
About the Instructor:
Donna has been interested in art her whole life. She discovered the magical art of encaustic over 12 years ago and has immersed herself in the medium. She has a studio in her home in Camrose, AB, where she paints and offers small classes. Donna loves experimenting with multiple mediums and media and discovering how they can be combined with encaustic. She really enjoys teaching all about the art of encaustic.
To see more of Donna's work, visit her Website and Instagram:
Website: donnahansonartworks.com
Instagram: @donnahansonartworks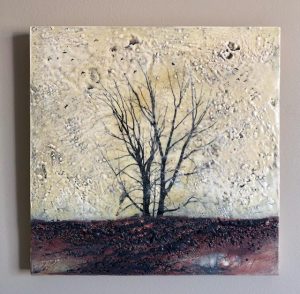 Most supplies are included in the supply fee.
The Paint Spot will supply: 10 x 10" birch panel, encaustic medium, encaustic paint, oil pigment sticks, heat guns, hot palettes, encaustic irons, brushes (hake, chip, soy wax for cleaning), silicone tools, palette knives, sculpting tools, plastic spoons
Instructor will supply: Oil sticks, encaustic irons, torch (for demo), hot palettes, brushes (hake, chip), sculpting tools, baking tins, silicone cups, image transfers (laser prints), gold leaf/foil transfer
You Bring:
Small spray bottle of rubbing alcohol, scissors, disposable gloves, roll of blue or white shop towels, wax paper, small package of popsicle sticks
Suitable art clothes, hand-towel/tea-towel, notepad, lunch, drink, and your own PPE (mask and hand sanitizer)
You will receive a 20% discount on all art supplies from your registration until the end of the class!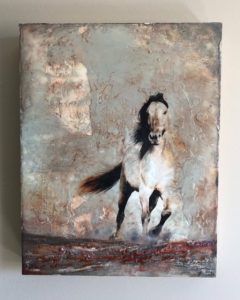 Artelier is located at 10045 81 Avenue NW, Edmonton (back alley entrance). The workshop space is one block south of The Paint Spot.
Photo Encaustic Workshop, Edmonton, Alberta