Description
Mixed Media Interiors Workshop
WITH JUSTINA SMITH
FRIDAY, OCTOBER 14, 6:00 PM – 9:00 PM
& SATURDAY, OCTOBER 15, 10:00 AM – 4:00 PM
$180 + GST
Class Limit: 12 Students
This class is recommended for intermediate to advanced artists
I love painting the inside of rooms and capturing the ambience of lighting – whether it be the time of day, or the way a lamp throws light on a favourite chair, bookshelf, or staircase. Sometimes I just like found arrangements like plants and folded blankets, light on a pile of dishes or how sunlight streams through curtains.
When painting interiors, handling the sheer volume of detail can be overwhelming. This class will help you problem solve creatively in this endeavor. Using acrylic paint, acrylic inks, and a variety of Japanese papers, we'll tackle tricky subject matters with a mixed media approach.
This mixed media interiors class is more suited to folks already comfortable in painting with acrylic, it is not a class for beginners.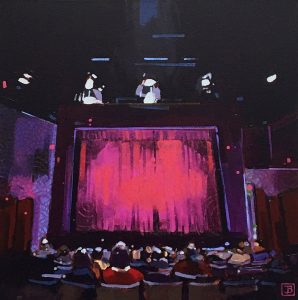 About the Instructor:
Justina is a self-taught artist who works in a variety of media, her main media being acrylic paint. Her subject matter varies widely as well but she is particularly drawn to the landscape, especially around the area of Vermilion, where she's been living and working for the past five years. She creates daily in her basement studio under the steadfast supervision of her two mini dachshunds and her golden retriever.
To see more of Justina's work, check out her website and Instagram:
Website: justinasmith.com
Instagram: @justinabsmith
Can't get enough Justina Smith? Check out her Painting With A Spatula class on October 13!
Required Supplies:
Maximum of 3 photos of your own to use as a reference
Acrylic paint and brushes
Hair dryer
Apron or smock
Suitable art clothes, hand towel/tea towel, notebook, lunch, drink, and your own PPE (mask, hand sanitizer)
You will receive a 20% discount on all art supplies from your registration until the end of the class!
Artelier is located at 10045 81 Avenue NW (back alley entrance). The workshop space is one block south of The Paint Spot.