Description
Linoprint Level Up: Multicolour!
Printmaking Workshop WITH MONA SAHI
THURSDAY, JUNE 1
6:30 PM – 9:30 PM
$100 ($50 + $50 Supply Fee)
Class Limit: 10 Students
For Mid-Beginner & Intermediate Artists
Have you gotten a taste of linoprinting and are wondering what to try next? Ready to level up?
Come and discover how to make multicolour prints!
In this 3-hour course, artists who are comfortable with the basics of linoprinting will explore various techniques on printmaking with multiple colours. Mona will demonstrate how to get the most out of your printing tools and materials. At the end of this printmaking class, you will go home with your carved lino block and prints.
This is a class that is meant to be joyful, so come and let's have some fun.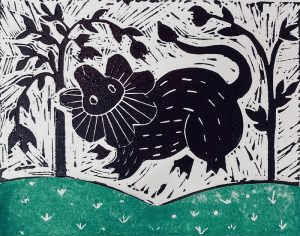 About the Instructor:
Mona Sahi is a visual artist whose artistic practice includes drawing, painting, printmaking, sculpting, and photography. In addition to several solo and group exhibitions, Mona has given art instruction to a wide range of ages and skill levels for more than 7 years. Since childhood, Mona has used drawing and painting as a way of expressing herself. She went to an art high school, followed by her academic journey in the art world. Mona has a BFA in Visual Arts. She currently resides in Edmonton and has been part of The Paint Spot family since mid-2021.
To see more of Mona's work, check out her Instagram:
Instagram: @sahi_mona
Check out more classes with Mona!
Most supplies in this printmaking workshop are included in the supply fee.
The Paint Spot will supply: lino block, lino cutting tools, brayer, baren, printing inks, printing papers, reference images.
You bring:
You may bring your own design (up to 4 x 6") and papers (optional) otherwise the instructor will supply.
Suitable art clothes, notebook (optional), snack, drink, and your own PPE (mask, hand sanitizer)
You will receive a 20% discount on all art supplies from your registration until the end of the class!
Artelier is located at 10045 81 Avenue NW (back alley entrance). The workshop space is one block south of The Paint Spot.
Linoprint Level Up: Multicolour! Printmaking Workshop, Edmonton, Alberta