Description
WITH MEGHANA GAUTHIER
SUNDAY, SEPTEMBER 18
12:00 – 5:00 PM
$80 + Supply List
Class Limit: 12 Students
This companion workshop to Fearless Florals, uses the colour green as a focal point and prompt to engage in a fearless exploration of… foliage!
Emphasis will be placed on finding inspiration, creating a balanced composition with a healthy dose of bold mark making and abstraction techniques using acrylic based media.
Inks, fluid acrylics, heavy body acrylics, acrylic matte medium, paper/collage, stencils and dry media such as paint pens, pastels and crayons will be in our toolbox as we create lush foliage paintings.
Use materials you already own, supplementing where necessary. You are welcome to bring signature tools such as a brayer, palette knives and even a discarded painting or two to use as an underpainting, the layers of foliage will have extra depth and texture!
Let's play our way to beautiful abstracted mixed media foliage!
About the Instructor: Meghana is an emerging artist who works in acrylic and mixed media to depict her favourite subject: abstracted florals! She is based in Edmonton with her family and she is a proud graduate of UofA Extension's Visual Arts program. Florals are just a prompt for her to explore pattern, colour, and composition – after 10 years of diligently learning, experimenting, and producing, she is now excited to share her inspiration and process in making bold, expressive mixed media floral paintings.
To see more of Meghana's work, check out her website and Instagram:
Website: meghanagauthier.com
Instagram: @meghana.gauthier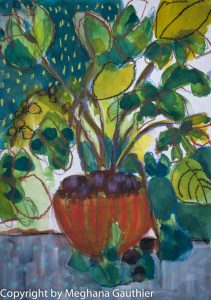 Instructor will bring a selection of books and finished works for inspiration.
Suggested Supplies:
1 Cradled Panel (9 x 12″ or 12 x 16").
Sketchbook suitable for Mixed Media (e.g. Canson XL Mixed Media), 9 x 12" or larger.
Bring your favourite heavy body, fluid, or high flow acrylic paints (Golden, Holbein, Amsterdam) and inks. A basic starter set (red/blue/yellow/black) plus teal, navy, chartreuse, Indian yellow, pink, fluorescents, would be excellent.
Dry drawing materials – soft or oil pastels (Faber-Castell, Holbein, Nupastel) – your favourite colours or a basic starter set, crayons, markers, etc. Bring your favourite materials – we'll find a use for them!
For collage, bring found paper (Washi, old paintings, prints, photos, etc), scissors, and acrylic medium.
Your favourite tools – brushes, palette knives, brayer, old gift cards to squeegee with, sticks, old/worn brushes.
Suitable art clothes/apron, rags, hand towel/tea towel, notebook, lunch, drink, and your own PPE (mask, hand sanitizer).
You will receive a 20% discount on all art supplies from your registration until the end of the class!
Artelier is located at 10045 81 Avenue NW (back alley entrance). The workshop space is one block south of The Paint Spot.