Description
Fearless Faces Mixed Media Workshop WITH MEGHANA GAUTHIER
4 WEDNESDAYS: MARCH 1, 8, 15, & 22
6:00 PM – 9:00 PM
$200 + Supply List
Class Limit: 12 Students
Any Skill Level – Youth or Adult
Fearless Faces is an exploration of the portrait using contemporary techniques in mixed media. While you will learn and practice the structure and proportion of the face as well as several drawing techniques, the goal is to play while we learn and generate as many fresh, funky, abstracted faces as possible in this course.
We will be working fast and loose, emphasizing process rather than outcome (which always follows naturally). In our portrait "laboratory" we will cover line variation, shape placement, pop colours, text, pattern and collage and look at the work of contemporary portrait artists for inspiration.
Week 1: Observation – Intro, facial proportions, common errors, finger trace portrait, blind contour, mass drawing
Week 2: Backgrounds & Context – Various techniques to create backgrounds, contextualize with symbols and elements
Week 3: Pattern, Shapes, & Collage – Pattern, line variation, and shapes to describe facial features and planes
Week 4: Paint & Layers – Putting it all together, simplifying with paint, collage, adding body and texture
About the Instructor:
Meghana is an emerging artist who works in acrylic and mixed media to create bold, expressive florals and portraits. She is based in Edmonton with her family and she is a proud graduate of UofA Extension's Visual Arts program. After 10 years of diligently learning, experimenting, and producing, she is now excited to share her inspiration and process.
To see more of Meghana's work, check out her website and Instagram:
Website: meghanagauthier.com
Instagram: @meghana.gauthier
Check out more classes with Meghana!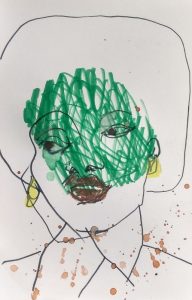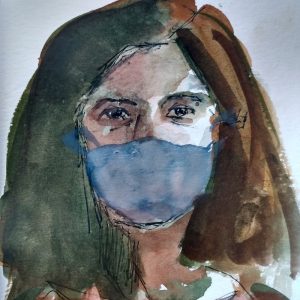 Recommended Supplies:
Bring these to your first class. Meghana will tell you about supplies for the rest of the series then!
Mixed media sketchbook or pad, like Canson XL (minimum 9 x 12″)
Copy paper (8.5 x 11") or newsprint
Dry media – bring whatever you like, but at least one erasable media: plain/coloured pencils, pens, charcoal, markers, crayons, soft/oil pastels
Eraser (plain white or eraser pen)
Wet media: basic watercolour set (student grade ok) or inks (optional)
Medium size (#8) watercolour brush
Mixing plate/palette
Suitable art clothes, notebook, snack, drink, and your own PPE (mask, hand sanitizer)
You will receive a 20% discount on all art supplies from your registration until the end of the class!
Artelier is located at 10045 81 Avenue NW (back alley entrance). The workshop space is one block south of The Paint Spot.
Fearless Faces Spring Series Mixed Media Workshop, Edmonton, Alberta