Description
Coloured Inks Workshop WITH JOHN VALENTE
SUNDAY, FEBRUARY 19
12:00 PM – 5:00 PM
$80 + Supply List
Class Limit: 10 Students
Have you ever tried the brilliant intensity of coloured inks? In this 1-day workshop, John will open up your eyes to the exciting world of possibilities with this unique and varied medium!
From bottled inks to pigment-based pens, explore the various types of inks available on the market. Discover the amazing range of hues they provide that few mediums can compare with.
Be inspired to delve into dynamic and fascinating subjects that show off the full potential of this diverse medium! See how to capture the incredible colours of nature while creating poetic mood effects and expressing subtle tones with monochromatic palette ranges.
Using the many varied ways of expression available to this medium, you will discover how to create a world of your own using both classic and modern techniques.
About the Instructor:
Born in Edmonton as an Italian-Canadian, John has travelled throughout some of the finest Museums and Print Rooms in Europe studying Renaissance and Baroque art for his art history blog, Beside The Easel. With over 30 years' experience as a self-taught artist, John is highly passionate about continual learning and observation. He combines Old Master methods with a modern-day eye in several media working in portraiture, figure, urban landscape and still life.
To see more of John's work, check out his Instagram:
Instagram: @john_valente_art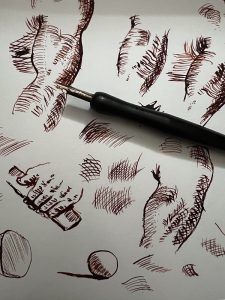 Required Supplies:
2 bottles of your choice Ecoline Liquid Watercolour Ink
2 bottles of your choice Schmincke Aqua Drop Watercolour Ink
3 colours Faber Castell Pitt Pens
2 colours Pigma Micron pens (any size)
Suitable art clothes, notebook, lunch, drink, and your own PPE (mask, hand sanitizer)
You will receive a 20% discount on all art supplies from your registration until the end of the class!
Artelier is located at 10045 81 Avenue NW (back alley entrance). The workshop space is one block south of The Paint Spot.
Coloured Inks Workshop, Edmonton, Alberta