Description
Discover Papermaking Workshop WITH JULIE DREW
SATURDAY, AUGUST 26
10:00 AM – 4:00 PM
$95 ($80 + $15 Supply Fee)
Class Limit: 12 Students
Any Skill Level – Youth or Adult
Handmade Papers
Make your own paper! In this class you will have the opportunity to make a variety of beautiful and unique papers from natural and recycled fibres.
We will begin by making 6 to 8 different paper pulps such as cattail, thistle, poplar fluff, blue jeans and more, out of seeds, cotton fabric, and recycled acid-free paper. You will then create papers from each of the pulp vats, using the templates provided. Pressed leaves or flowers will be on hand to add to your paper pulp, but you may also bring your own.
By the end of this class, you will create and go home with 10+ unique pieces of your very own handmade paper!

About the Instructor:
Julie Drew waits and listens, letting the details of the world around her speak beauty and wonder. Adding her own distinct expression using watercolor and mixed media to capture the depths and nuances of color, light, and shadow, she creates paintings that proclaim peace, mystery, and wonder.
Her passion for art led to a BFA in Painting and Drawing from Pacific Lutheran University in Tacoma, WA, USA in 1987. Julie has been painting for over 35 years. In 1997, Julie moved with her family to Edmonton, Alberta. Although Julie works predominantly in watercolor, she also uses mixed media with her own handmade paper. Julie teaches watercolor, mixed media, acrylic, oil and papermaking. Her art work has been exhibited around Alberta.
To see more of Julie's work, check out her website and Instagram:
Website: www.JulieDrew-ArtandFaith.com
Instagram: @shedrewit_artandfaith
Instructor will provide papermaking supplies (included in the supply fee).
You Bring:
Optional: infusions that you would like to include in your paper, e.g., pressed flowers, leaves, threads, etc.
Suitable art clothes, apron, hand towel, notepad, lunch, drink, and your own PPE (mask, gloves, hand sanitizer)
You will receive a 20% discount on all art supplies from your registration until the end of the class!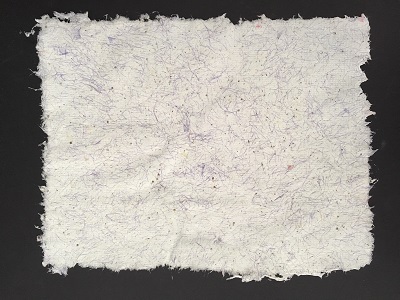 Artelier is located at 10045 81 Avenue NW, Edmonton (back alley entrance). The workshop space is one block south of The Paint Spot.
Discover Papermaking Workshop, Edmonton, Alberta