Description
Coloured Pencils: Ordinary Magic Workshop WITH ASAL ANDARZIPOUR
MONDAY, MARCH 27
6:00 PM – 9:00 PM
$50 + Supply List
Class Limit: 10 Students
Any Skill Level – Youth or Adult
Coloured pencils are an excellent medium for both realistic art and imaginary illustrations. Using them you can capture ordinary scenes of daily life or create dreamlike images.
In this short class, you'll discover new possibilities with this simple medium.
Whether drawing from imagination or based on still lives and reference photos, you will see how to blend layers of colour and express a sense of confidence through your line quality.
This workshop is designed for beginners with no experience and also those with some experience who want to troubleshoot their current work and create impressive results.
Bring 3 of your favourite small objects, a reference photo and a mind full of imagination!
About the Instructor:
Asal Andarzipour is a multidisciplinary artist and curator. Currently, Asal's practice is focused on oil painting and photography with roots in her long-term studies in design. Her art lives on in numerous private collections in the North America, Europe and the Middle East. Asal hold a Master of Fine Arts from Syracuse University as well as two other art degrees.
To see more of Asal's work, check out her Website and Instagram:
Website: asalandarzipour.com
Instagram: @letlilymanifest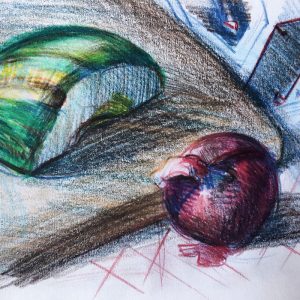 Student Supplies:
12-colour set of coloured pencils (suggested brands: Faber-Castell Polychromos, Holbein Artists' Colored Pencils)
9 x 12" Bristol vellum surface paper, at least 5 sheets
HB graphite pencil, pencil sharpener, erasers (suggestions: Tombow Mono Zero or Sakura Sumogrip erasers)
Blank letter size scrap paper (at least one side blank) 5 sheets
3 small objects for still life. Get creative! Bring anything – a fork, a perfume bottle, an artichoke – your choice!
Reference image (optional – an image will be supplied)
Masking tape, drawing board (11 x 14" Masonite panel will work)
Suitable art clothes, hand towel, snack, drink, and your own PPE (mask, hand sanitizer)
You will receive a 20% discount on all art supplies from your registration until the end of the class!
Artelier is located at 10045 81 Avenue NW (back alley entrance). The workshop space is one block south of The Paint Spot.
Coloured Pencils: Ordinary Magic Workshop, Edmonton, Alberta