Description
WITH JANI GALARNEAU
FRIDAY, SEPTEMBER 16
6:00 – 9:00 PM
$50 + $25 Supply Fee
Class Limit: 12 Students
BEGINNERS! THIS IS FOR YOU!
Love those mixed media pieces but don't know where to start? Then this 3-hour intro with Jani is for you!
Get excited about colours, textures, and composition. Together, we will complete a beautiful 5 x 5″ chickadee in mixed media. We will talk about and use different mediums and materials that will get you started in your creative adventure. All supplies are included!
There is always more to learn about making art, but why not learn while having fun? It is pure joy to give yourself time to play and create. See what magic you can make!
About the Instructor: International mixed media artist Jani Galarneau is known for her infectious energy and passion for creating. Her modus operandi is vibrant colours with a whimsical style and texture that not only draws the eye, but also makes you want to experience the art by touch. Jani brings her unique style together with many found objects as her passion for recycling and upcycling is key to her work. Currently she is teaching in the United States alongside Disney Legendary Imagineer, Terri Hardin Jackson. You can find her work at art galleries across Canada and at the Royal Alberta Museum.
To see more of Jani's work, visit her Website and Instagram:
Website: janigalarneau.com
Instagram: @janigalarneau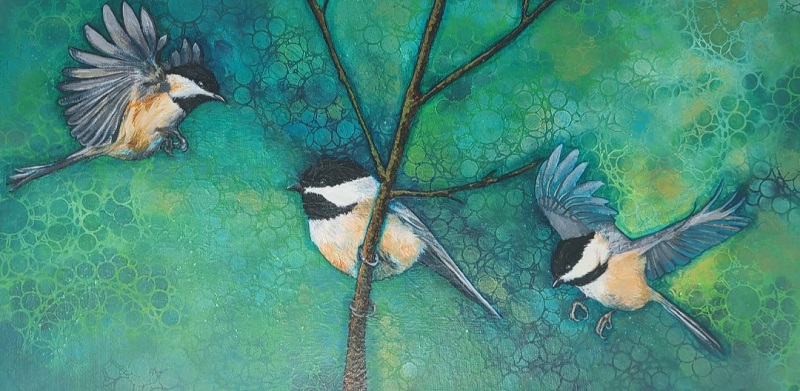 Instructor will bring all required supplies: 5 x 5" support, a variety of paints, mediums, drawing materials, brushes, mark making tools, decorative papers and embelishments, stencils, etc (included in the supply fee).
You bring:
You may bring your own selection of favourite art supplies
Suitable art clothes, paper towel or cloths, notebook, lunch, drink, and your own PPE (mask, hand sanitizer)
You will receive a 20% discount on all art supplies from your registration until the end of the class!
Artelier is located at 10045 81 Avenue NW (back alley entrance). The workshop space is one block south of The Paint Spot.